Why there's probably not going to be a definitive Tea Party documentary.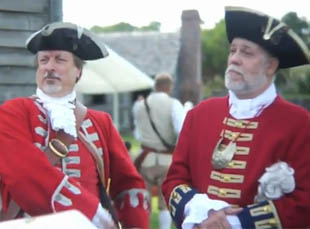 Posted by Vadim Rizov on
American political documentaries tend to either center around campaigns ("Primary" and its many heirs), specific issue-focused activism, preaching to the choir (Michael Moore and Robert Greenwald) or retroactive explanations like "Standard Operating Procedure," "No End In Sight" and the other films that try to put the pieces together after the damage is done. That's why I have no hope that right now someone's out there, prowling the vérité beat around the Tea Party.
The boat was missed during the the last big conservative movement in the '80s, when Jerry Falwell's buddy — the Rev. James Robinson — exhorted a nation with the stirring words "I'm sick and tired about hearing about all of the radicals, and the perverts, and the liberals, and the leftists, and the communists coming out of the closet. It's time for God's people to come out of the closet, out of the churches and change America." And so they did — and what do we have to show for it in footage that wasn't grabbed from TV news? Not a thing.
This week the New York Times decided it was finally time to give the Tea Party some serious attention and served up five pages of the best, concluding with a quote from one Pam Stout, who said "I would give up my life for my country. […] Peaceful means are the best way of going about it. But sometimes you are not given a choice." Given that, according to the Washington Independent, 11% of Americans now identify in some way or other as Tea Party supporters, it's about time someone started paying comprehensive attention from the outside. And cobbled together a movie about it.
Where are the documentaries on the biggest thing in conservative politics since the religious right's emergence in the '80s? If film history has anything to teach us, it's that there won't be any for four or five years. Instead, there's "Tea Party: The Documentary Film," a partisan affair hitting DVD next week available on DVD whose premiere drew the likes of Joe "You lie!" Wilson, focusing on six average Americans who participated in the 9/12 marches. Let's just say I don't think there's much evenhanded footage there. (Tagline: "Liberty's march has a new generation of patriots.")
When it comes to the Tea Party movement, so far YouTube has been left to do all the heavy lifting, providing us with footage designed to reinforce everyone's individual bias. As far as I know, there's no one on the ground capturing the meetings, arguments and, I dunno, the three sane people presumably entangled in this. (Or at least someone who can feign a Ralph Reed-esque demeanor.) Which isn't surprising: all we want to see are clever campaign strategists and self-congratulatory gatherings. Sometimes all politics aren't just local, though, and they can't wait to be analyzed a decade on. I hope someone decides to keep their head down and documents this endlessly fascinating/scary phenomenon. We really don't need another spin on "The War Room" or more talking heads.
Here's the "Tea Party" trailer. You can't make this stuff up:
[Photos: "Tea Party: The Documentary Film," Ground Floor Video, 2009; "Standard Operating Procedure," Sony Pictures Classics, 2008]