The great talking dog controversy.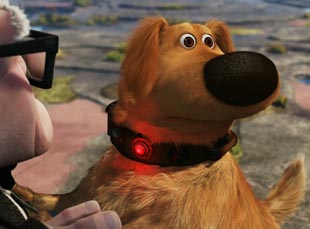 Posted by Vadim Rizov on
Now that all this Oscars nomination nonsense is out of the way, let's talk about something really important: talking dogs.
Specifically, let's talk about how the ones in "Up" are awesome and in no way a disqualifier for Best Picture status. I first became aware of this objection a few days ago, when Ray DeRousse of Sammyray.com groused about the many reasons "Up" wasn't a "worthy" Best Picture candidate. Leaving aside what "worthy" means, he had his reasons — mostly, he thinks the last hour doesn't follow internal logic. "Who built miniature planes for his pooches, or any of the other devices used throughout the climax?" Also: "Those who were blown away by the opening sequences found themselves an hour later staring at talking dogs flying airplanes." (His italics, not mine.)
This battle cry was taken up by Hollywood Elsewhere readers and noted by the New York Times' Melena Ryzik when discussing the Pixar film's Oscar chances as part of its "conventions of kiddie stuff."
Personally, I'm not a big fan of "cute," and I'm definitely not a fan of those ghastly children's movies where the animal's lips move in time with what they're saying, like "Homeward Bound: The Incredible Journey," with Michael J. Fox as Young Dog and Don Ameche as Old Dog. And I didn't like "Wishbone." Nor am I looking forward to "Marmaduke." In fact, I don't even like pets. So forget all that.
That is not remotely what "Up" is doing. "Up" is about a dog who thinks like a dog, a joke about non-mediated thought processes and weird syntax, and not something I've seen before. And, incidentally, not all movies about talking dogs are cute. There's 1995's inexplicable "Fluke," in which thoughtless yuppie/neglectful father Matthew Modine is reincarnated as a dog to reunite with his family. Not strange or violent enough? Try 1989's "Baxter," in which a sociopathic dog teams up with a young lad who worships Hitler. (Tagline: "Beware the dog that thinks.")
Of all the objections that could be raised against "Up" (the only movie that "belongs" on that list, for my money), this is one of the silliest and most short-sighted. It doesn't matter that the dogs are talking; what matters is what they're saying. It's not like they put the dog and child in danger and waited for you to cry, or cut to cute LOOKATDAPUPPY shots. We live in a world where a glorified YouTube assemblage of baby footage — "Babies" — is somehow being marketed as an art-house crossover movie. Now you tell me who's really falling back on cutesiness.
Looking for a real crime against on-screen talking dogs? Try this:
[Photos: "Up," Walt Disney Pictures, 2009; "Baxter," Lions Gate Films Home Entertainment, 1989]