SXSW Takes Over IFC!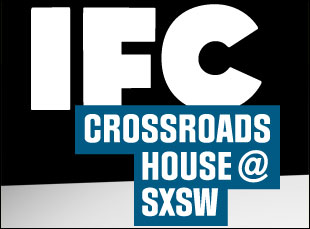 Posted by IFC on
Hey SXSW-goers — come and knock on our door!
IFC will be in full effect at this year's SXSW Festival with the IFC Crossroads House (612 Brazos at the corner of East 7th).
The house will be open every day for the duration of the festival (March 12th through the 21st) from 11am-7pm — just show a badge, wristband or screening ticket stub in order to get in.
And we've got some goodies for you:
Free continental breakfast every morning at 11am! And free all-day coffee bar!
Free happy hour at 5pm every evening!
Free Wi-Fi, daily giveaways (including Gibson guitars), cell phone and laptop charging stations and a photo booth!
There will also be celebrity interviews and band performances in the house's IFC News Studio every day at 12pm, 3pm and 6pm. IFC News' Matt Singer and Alison Willmore will host the film interviews. Comedian and director of "Nerdcore Rising" Negin Farsad will bring you the best from interactive. And The Hold Steady frontman Craig Finn will be hosting the music portion.
Bands currently booked to perform (in partnership with The Bowery Presents) include:
Stars from IFC's television series will also be visiting the IFC Crossroads House, including Jon Dore (of, of course, "The Jon Dore Television Show"), who'll be doing stand-up, "Food Party"'s Thu Tran, who'll be offering edible delicacies from the Mmmpanada Food Truck and screening episodes from the show's new season, and chef and "Dinner With The Band" host Sam Mason, who'll be mixing some of his signature cocktails.

Keep an eye on IFC.com/sxsw, more information will be posted there soon — follow us on Twitter and friend us on Facebook to hear to the latest updates. And please help us spread the word by reposting the flyer below!