Seven memorable movie winter snowstorms.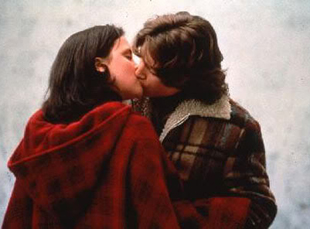 Posted by Vadim Rizov on
Right now, much of the east coast is effectively snowbound. Since we're all stuck here in front of our computers while the rest of the country, here's seven memorable on-screen snowstorms to wile away the long hours.
"The Fatal Glass of Beer" (1933)
A Canadian Mountie walks into W.C. Fields' cabin, with a big gust of fake snow following. "Is it still snowing?" Fields asks, before proceeding to accompany himself on auto-harp on a song about a young man who goes to the city, starts drinking and learns a valuable lesson about not breaking other people's tambourines. Later Fields says "I reckon, guess and calculate" his incarcerated son is soon coming home. Still later he goes out to milk the elk. This a slow-moving but winningly bizarre meta-parody of the now obscure Yukon melodrama, oft compared to Monty Python for its sheer strangeness. Fields' indomitability in the face of cold weather is inspiring.
"Odd Man Out" (1947)
A memorable usage of symbolic snowfall as impending death, this fascinatingly incoherent Carol Reed movie finds wounded Irish nationalist James Mason wandering around Belfast, hallucinating with increased severity until the world starts being as strange as what he's dreaming. As the snow falls and the time to flee the city decreases, Mason ends up being kidnapped by an insane painter fixated on capturing the dying man's eyes as he dies, in a memorably excessive sequence.
"The Cardinal" (1963)
Otto Preminger's long, social-issue-y "The Cardinal" is actually better than you'd think. A big, splashy three-hour movie adopted from a hot-topic bestseller with no lasting value, "The Cardinal" marches through all of its Big Issues — abortion! racism! Nazis! — with a fearlessness and commendable indifference towards good taste. At one point, during darkest winter, Cardinal Tom Tryon (later a horror writer) comes to visit old friend Father Burgess Meredith. But he's not dying in the snowstorm because of his penitential, bread-and-wine diet — he's dying because of multiple sclerosis. This is one surprisingly tough-minded movie, though the eight-minute edit below does a good job of making it look hypnotically terrible.
"Airport" (1970)
After producing most of Douglas Sirk's '50s Hollywood work and the first Doris Day-Rock Hudson pairing, Ross Hunter's final big bang was this opulent if unwieldy blend of the old-fashioned "Grand Hotel" style melodrama ("seven different stories," as the trailer helpfully spells it out for us) with a disaster movie, with blustery George Kennedy trying to figure out how to clear off a snowed-over runway for a plane with all kinds of problems, not least that Van Heflin's planning to blow it up. Everyone's seen "Airplane!," but this straightfaced original has its own special kind of entertainment value still: the airport of 1970 looks suspiciously, tantalizingly opulent.
"The Dead" (1987)
John Huston's final film is generally considered the remotely successful attempt to put James Joyce on screen, boring in on one of his most compact stories and translating it with scrupulous but lively fidelity. The memorable final soliloquy (unfortunately unembeddable) comes intact, visualizing how "snow was general all over Ireland" as an elegiac state of mind — it tends to drive most people to tears.
"Edward Scissorhands" (1990)
The teen-emo movie to end them all, with kabuki-faced Johnny Depp as the boy whose scissorhands let him carve topiary and ice with equal skill, with the flakes that fly off his statues forming enough snowfall for a whole town. "Edward Scissorhands" gets a bit more embarrassing as I get older, but it's endearingly angst-ridden — once you can groove with the heavy sentiment, it's a good time.
"The Ice Harvest" (2005)
Of course, for an utter lack of sentiment you could turn to this curious neo-noir, with John Cusack clearly enjoying destroying his own image as he swears vigorously, solicits sexual favors, vomits and kills people. Alongside him is a more-foul-tempered-than-usual Billy Bob Thornton and Oliver Platt as a hilariously bluff drunkard. The movie's not as smart as it wants to be — it's just as snowy as "Fargo" but a lot nastier, just as violent but a lot less elegant about it — but it's still enjoyably misanthropic low-stakes winter fun.
[Photo: "The Ice Storm," 20th Century Fox, 1997]