Seven great movies that star architecture.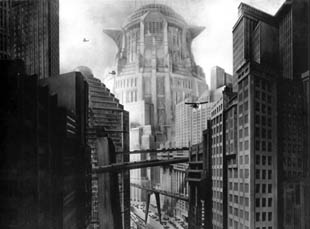 Posted by Vadim Rizov on
Alongside the almost-certainly-definitive restoration of "Metropolis," this year's Berlin International Film Festival saw the premiere of "How Much Does Your Building Weigh, Mr. Foster?," a doc celebrating British architect Norman Foster — who, coincidentally, is working on a development in Abu Dhabi "with driverless trains and elevated walkways."
"Films like 'Metropolis' are an architectural experience," Foster says. "They truly are both inspirational and prophetic." True enough. Here's seven more movies that have productively grappled with architecture, both real and imaginary:
"North by Northwest" (1959)
For most people, "North By Northwest" is instantly associated with Mt. Rushmore or crop-dusters — but the house of James Mason's villainous Vandamm is probably next up there if you think about it. In keeping with the film's tony settings (the Plaza Hotel, the United Nations Building), Hitchcock had his design team create a Frank Lloyd Wright-esque abode that would scream luxury on par with Cary Grant's usual proclivities (Wright's rates were too high to have him design something for real). Hitchcock may have inadvertently created a link in audience's minds between modern architecture and villainy — regardless, the film came out a little more than three months' after Wright's death, an inadvertent tribute to his influence.
"Il Posto" (1961)
Ermanno Olmi's first film to get major international attention, "Il Posto" presages Antonioni's '60s work and his general sense of youth in revolt through very simple means. Domenico (Sandro Panseri) commutes from the rural village of Meda to Milan to land a bureaucratic job everyone assures will have him living in stable, dependable, unexciting and modest comfort for the rest of his life. During the lunch break of his daylong interview, he and his instant crush Antonietta (Loredana Detto) wander around the city, with the glass-concrete-steel architecture already there, dominating the landscape materially and demonstrating to Domenico how close the world he knows is to irrevocable change and evaporation. Architecture as cultural change: this movie's still ahead of everybody.
"Play Time" (1967)
"Play Time" is the infamous ultimate example of architectural extravagance onscreen, as Jacques Tati constructed his own "Tativille," complete with a power plant — the cost of the whole enterprise kept him in debt for years. The architecture of Tati's platonic modern city is both intimidatingly massive and strangely designed for, well, play; the "characters" (such as they are) respond accordingly, eventually exploring and having fun with the space. It's the rare movie that responds to impersonal architecture with delight and curiosity rather than automatic suspicion.
"The Passenger" (1975)
Antonioni always paid a lot of attention to space — it could be more important than the people — but he introduced many to Antonio Gaudi with "The Passenger," in which Jack Nicholson and Maria Schneider have a memorable conversation on the roof of La Pedrera. Gaudi's work has since come to be a lazy if always-delightful shorthand for Barcelona on-screen, in everything from "Vicky Cristina Barcelona" to Hiroshi Teshigahara's wordless, unblinking 1984 documentary simply named "Antonio Gaudi," one of the few films devoted to simply examining the insides and outsides of one man's work.
"My Architect" (2003)
Nathaniel Kahn's quest to discover his oft-absent architect father Louis Kahn can be initially narcissistic and off-putting — he insists on his unique pain as the son of a neglectful dad, which isn't actually all that unique — but it's a surprisingly immersive, patient introduction to Kahn's work, taking time to capture Kahn's buildings in lovely, space-preserving shots. And he's more than open to stopping the movie to let someone else talk uninterrupted — as below, say, when a man tearfully rhapsodizes over what Bangladesh's finally-completed Parliamentary Building meant. He's equally open to letting people insult the work on-camera, which is refreshing.
"24 City" (2008)
The vast, brutal and impersonal architecture of Communism has been handily documented — I remember in particular the bizarre Soviet musical "Cheryomushki," where people dance on planks held up by construction cranes and lyrics include "Where is the housing superintendent?" — but in "24 City," Jia Zhangke captures the end of all that, following the destruction of a whole group of no-longer-needed industrial factories being knocked down to make way for condos. As in Jia's"Still Life" (where the real destruction of buildings and walls is worked into the movie), seemingly impersonal structures take on the symbolic weight of the passing of an entire social experiment.
"The International" (2009)
In this moronic but eminently watchable flashback to '70s paranoia, director Tom Tykwer nearly overcomes a ridiculous script by just focusing on the buildings — German parking lots and train stations, gleaming steel-and-metal constructions whose looming qualities make you distrust the (literal and figurative) transparency of the corporations inside. And of course there's the much-beloved Guggenheim gunfight (whose spiral staircase was also used as an effective leaping point for Ophelia's suicide in 2000's updated "Hamlet").
[Photos: "Metropolis," Kino, 1927; "North by Northwest," MGM, 1959; "Il Posto," Janus Films, 1963; "Play Time," Continental Distributing, 1973; "The Passenger," MGM, 1975; "My Architect," New Yorker Films, 2003; "24 City," Cinema Guild, 2008; "The International," Columbia Pictures, 2009]