Martin Scorsese is not a "personal filmmaker."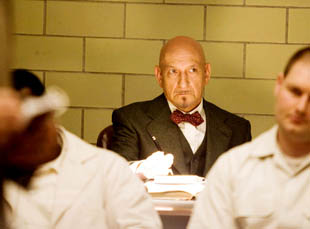 Posted by Vadim Rizov on
My English professors always warned me against reading anything biographically. Pulling a meaning from a work based on knowledge of the writer's life is always tempting and sometimes enlightening, but ultimately it's a lazy route that closes alternate possibilities. That's a good rule that more film writers should follow. "Shutter Island" is coming out tomorrow and already people are getting their hate on, with the key buzzword being "impersonal" and variants thereon. Leading the charge is Elbert Ventura over at Slate, who declares the film "silly and impersonal," which somehow makes the word corollaries.
It's telling that the most popular Scorsese films remain, after all these years, "Mean Streets," "Raging Bull" and "Goodfellas" — the Italian-American trifecta, with "Taxi Driver" more respected than loved. That's because mooky violence is an easier sell than, say, Edith Wharton or the temptations of Christ. And, armed with the information that Scorsese was an asthmatic child in a neighborhood full of belligerent Italian-American males, it's easy to correlate his greatest successes with "personal filmmaking."
The logic of this argument seems to be that "personal" films correspond to biographical information (except for "The Age of Innocence," which Ventura deems "personal" without explaining why, which I take to mean he just likes it). This is why you see people refracting Polanski's entire career through his time hiding in the Warsaw ghetto and his exile to Europe, and why Soderbergh haters always claim he's making "cold," "technical" experiments. He didn't give them any meaningful biographical information! The jerk!
You did not see this kind of nonsensical criterion being raised 20 or 30 years ago, which speaks to the increasing luridness of full-disclosure writing permeating every last field, the blogospheric assumption of the importance of the "personal" that's surely going to keep trickling down. And it's careless thinking. You think "Mean Streets" is personal and "The Aviator" isn't? Try again: "Mean Streets" is fantasy wish-fulfillment to make up for a sickly childhood, while "The Aviator" is a swooning love letter to the medium that dominates Scorsese's life. I just made a "personal" argument. Are you convinced yet?
In short, if you intend to make movies, never tell anyone anything interesting about your life, or you will never hear the end of it.
[Photos: "Shutter Island," Paramount, 2010; "The Aviator," Miramax, 2004]