Scoring the middle ages, Clannad.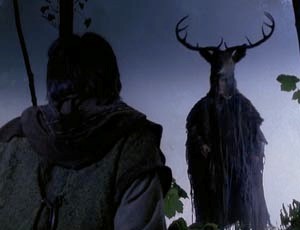 Posted by Brandon Kim on
I'm all for creative license in scoring medieval period pieces, and in fact am a big proponent of re-scoring the Lord of the Rings trilogy using the existing members of Led Zeppelin, perhaps incorporating some of their Tolkien inspired classics, "Misty Mountain Hop" and "Ramble On." But those are also fantasy pictures and much as Ridley Scott's forthcoming "Robin Hood" borders that territory, the story is in fact based on real British folklore and has a different aim – that of telling a historical tale, not a fantasy.
[Robin of Loxley meeting some intense forest mage/druid, deep in the wood. From the series, "Robin of Sherwood"]
There's also an enormous difference between having some brilliant rockers creatively score a film and having a too-clever composer drum up a moderny rock score – especially when it's for a period piece set a thousand years ago. This travesty is all too common and barring lovable blow outs like "Ladyhawke," should be avoided (it should have been avoided then too).
If one were to score a Robin Hood film, or any film of a similar Anglo/celtic/saxon setting one would do well to consider using some period instruments and trying to interpret the film through them, providing some great sense of immersion. One should look at the genius mid 80's series, "Robin of Sherwood" for example, which aired in the US (on Showtime) as "Robin hood" in 1984. Man, we like to keep things simple don't we?
Aside from being generally well written and steeped in the kind of lore and mystery we just can't seem to muster here in vanilla land, this series (which was shot on film) struck an original chord with the musical score, using the Irish band Clannad.

Together We by Clannad, from "Robin of Sherwood."
The effect was nothing short of incredible and although they dispensed with their usual Gaelic singing (as was the case with their "Theme from Harry's Game") they transcended the usual role of simply accompanying and accommodating the action. The show had an undeniably authentic feel, heightened by the Celtic harmonizing, chimes, woodwinds, harps, and lyres (and yes some synth keys) of Clannad. The atmosphere was thick, you couldn't cut it with a longsword, and you just can't say that about recent imaginings.

Battles by Clannad, from "Robin of Sherwood."
The songs ranged from ethereal ballads that conjured the secrets of the forest, to pounding, almost Zeppelin like jams with jangly guitars (like the above track used for battle scenes). Some of them may play a bit cheesy to thine ear now, all these years on, but 25 years ago they were potent concoctions of the very old, with just dashes of cutting edge. And they still sound better then what people are making today for films that can only hope to have an ounce of the mood that Clannad gave to this earlier "Robin Hood."

Darkmere by Clannad, from "Robin of Sherwood." You'll have to forgive the fades and constant superimpositions that wank up this fan vid, my Lord/Lady. Yes, those are glimpses of young Ray Winstone as the indispensable Will Scarlet.
You may even hear some similarity to musical bits from "Last of the Mohicans," which has some of the best film scoring ever done, if you listen close. You're not hallucinating, I suspect Clannad influenced some of the compositions, and the track "I Will Find You" is all them (written and performed). How do you capture both the authentic and mystic in one film, in one composition? The two seem at first incongruous. Pray you look no further than this inspiration Misters Scott and Streitenfeld… there is yet time to score your film with something less formulaic then what smacks in the trailer.