Exclusive! Video premiere + Q&A: Rogue Wave's Permalight.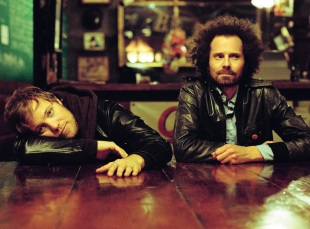 Posted by Brandon Kim on
For Rogue Wave's fourth studio album, Zach Rogue and Pat Spurgeon decided to have themselves a little intrigue, and make a mini film showcasing snippets of each song on their forthcoming record, Permalight.
[Zach Rogue and Pat Spurgeon of Rogue Wave]
I talked to Zach about these teasers, five of which we have premiered here, and found he has a serious thing for movie trailers — "I think I like movie trailers better than movies," he said, in fact.
Check out these vignettes, trailers for each song on the record, but also a kind of homage to the 1970's Karl Malden/Michael Douglas show, "The Streets of San Francisco."
Do you have a larger your scheme in mind for these vignettes?
Well, there are more of them. We were shooting the video for our first single, but we wanted to be able to do something a bit different too, and kind of have [something] that feels like movie trailers with just little glimpses of the record. And some local footage of the Bay area, that's where we're from, and just kind of run around the city and make a conspiracy drama. Have fun for a weekend and shoot in the rain…. They're like demos you know, they can't disappoint because you never know what their potential is yet. And it's that not knowing that makes it so sweet.
Who directed these and was the concept a collaboration between you?
Yeah we worked with this filmmaker, Tyler Manson, he's an up and comer, look out for that guy! The whole idea of the project really came from Emmett Malloy, really talented dude, and then he got Tyler involved who had his own idea how to make it real. It was really something they came up with and we just kind of participated in – they deserve any kind of credit, or blame.
These songs mark a departure from your previous sound, after a serious health debacle is that right?
Yeah, I had some problems [laughs]. In late 2008 I slipped two discs in my neck and lost the felling in my arm and right hand. I got a lot of it back for sure, and am in a much better place now. But there was a very dark stretch of time where I couldn't really get out of bed or move much. This record was a kind of reaction to that and wanting very enthusiastically to start making music again. So I think the record is a lot more direct and punchy and cohesive… then maybe our other records.
I dig the contraption your co-conspirator [Pat] has in his case (revealed in the "Solitary Gun" teaser)…
Yeah, that day before shooting we brought a bunch of props and decided to meet and get coffee -Bluebottle coffee it's really good – so we're in line [at this busy place] and Tyler says, "Hey Pat I heard you brought some props." And Pat's like yeah I brought this, this, and this bomb! And all these heads turned.
What kind of job do you pack for, assuming of course you do not pack for the job you have?
Oh. [laughs] Ah, that's a really good question. I pack for a job that will largely remain thankless.
Do you have a song in the film "Rachel Getting Married," or who is that?
Well that's interesting… we did a cover, years ago, of a Buddy Holly song called "Everyday." We did a version of if for this video game project called "Stubbs the Zombie," and I don't really know what happened but someone emailed me and said, "Hey man! I heard your version of 'Everyday' in the 'Rachel Getting Married' trailer, that's so neat!" I had heard about the movie, but we didn't have a song in it. So I got online and watched the trailer, and realized that somebody had taken our version of that song and copied it note for note all the same instrumentation, even the same bells we used, an exact replica of our version, but it wasn't us.

What! That movie had some great music, and all kinds of musicians involved, it seemed like a really positive process. So what happened, did you get credited?
Yeah the matter has been dealt with let's jus say, but I was extremely unhappy… that kind of theft is just, totally unnecessary. I think with trailers, it has nothing to do with the people who made the actual film [interrupted, we both say marketing]. Yeah, I'm sure if the filmmakers, which by the way it was an amazing film, my favorite movie that year, I'm sure they would have been horrified if they knew that had gone on.
Well aside from your conspiracy vignettes, what film would you like to live inside of, if you could?
Well I think I do live inside of "The Conversation," but what film would I like to live in? [laughs] Geez. What's that great movie with Audrey Tautou? "Amélie!" I'd like to live in "Amélie," yeah. And I can tell you, I know what Pat wants to live in, the movie "Tron."