"Rise Up," the most musical island in the world.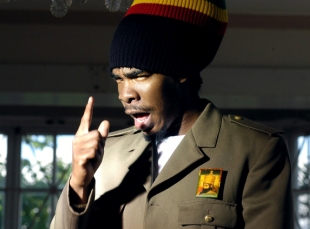 Posted by Brandon Kim on
As the snow continued to fall in marshmallow sized puffs outside, my thoughts turned to warmer climes. Then a friend reminded me about this documentary "Rise Up," which concerns the warm isle of Jamaica – just thinking about it feels like a vacation.
[Turbulence, from Rise Up]
But there is much more to this little island than sun and hedonistic nude beaches. I have spent considerable time there over the years for one reason or another and still know little of the place, in half a dozen times there I've still never been anywhere near the interior of the country. It's odd how a place that is so familiar, so well known in popular culture, can be so unknown. It's almost detrimental, this superficial familiarity we have. Americans go there in droves, and yet, they don't know a goddamn thing about the place.
People who've spent weeks there sunning it up have never tried the most basic native foods, indeed they have never heard of them even after being there. Ackee fruit* what's that!? You could not say the same of other countries people spend so much of their leisure time.
Everyone knows the music though. But not much about it, nor is the extremely rich and varied musical history of the Jamaican people truly recognized for having such a colossal influence over modern hip hop, pop, and dance music (beyond a few outspoken individuals, like DJ Spooky).
This doc that premiered at Walter Reade Theater in NY last night, may be one more step toward educating the average pale face. It follows a group of different artists, over five years, on their quest to make it on this island that everyone knows but no one can tell you anything about. Music so culturally ingrained here it may as well be in the air, in the water, in the Blue Mountain coffee (some of the finest in the world, delicious).
Music and appearances by legends Lee "Scratch" Perry, Sly Dunbar, Robbie Shakespeare. And characters with names like Turbulence, Brushy One String, Delano the Cricket, and Toots Hibbert.
Check out my guy Brushy rip up this acoustic guitar, strung with a single bass string:
"Rise Up" plays tonight in Hartfort, CT, at the Wadsworth.
And on Sunday night in Salem, MA at the Salem Film Fest.
More on "Rise Up"
Thanks Pam!
*Ackee fruit is a large red tree born fruit with poisonous seeds which must be properly prepared before it is edible. One of those rare fruits that is cooked before consumed, whereupon it is magically transformed into something that resembles scrambled eggs. You could serve it as such with the proper fixings and no one would be the wiser. in Jamaica, it is served with salt fish and onions, and good any time of day with a bit of rum.