Death of the theatrical re-release.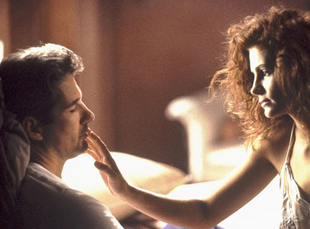 Posted by Vadim Rizov on
UK citizens who feel like "Valentine's Day" is still not enough Garry Marshall will be able to flock to a re-release of "Pretty Woman," celebrating its 20th anniversary abroad but not at home. Aside from last year's successful re-release of the first two "Toy Story"s in converted 3D, it's been a long time since theatrical re-releases were part of multiplex fare. Which is a shame, even if it's not surprising.
Disney did well with the "Toy Story" double-feature re-issue, which served two key functions: it brought in relatively inexpensive 3D revenue and gave parents an excuse to take a generation of children too young to have seen the films in theaters, thereby creating a base of prepubescents totally primed for "Toy Story 3." Disney used to be profligate in re-releasing all their big animated hits once every 10 or 15 years, which helped to build in new generations of fans (while appealing to parents who secretly wanted to check in with their childhoods) while establishing continuity between every generation's childhood moviegoing memories. No more.
Generally speaking, straight up re-releases — no gimmicks, "directors' cuts" or effects touch-ups — have been dead in the water here in the U.S. for a while. They're mostly for those in the arthouse know, even when the movies in question were popular — "The Graduate," the 18th-highest grossing film of all time domestically, adjusted for inflation, made all of $75,702 on its 30th anniversary re-issue.
I can count on two hands all the big, non-arthouse re-issues I can remember since I started paying attention: a 20th-anniversary "Grease" that did fine for itself (about $28 million) without any new footage or gimmicks, the sexed-up "Exorcist" recut that took in nearly $40 million in 2000, the mildly-successful 20th-anniversary re-issue of "E.T.," the crash-and-burn of the stupidly recut "Alien" in 2003 (just under $2 million). (The "Star Wars" re-issues are the exceptions that prove the rule, though they were massive.) In fact, there's little compelling financial incentive to re-issue movies on a mass scale when even the biggest of former blockbusters seemingly have no theatrical life 20 years on.
I suppose people just don't get that big a kick out of re-visiting films the way they first saw them, when the most re-issuable films (from a financial standpoint) are now the most easily available. It's also relevant that moviegoers under 40 now are people who have trouble remembering when most things weren't available for easy home viewing in one format or another: the whole idea of movies occasionally returning to where they began isn't even a setting for them, since their loyalty to the theatrical experience is shaky at best. And cable reruns have made re-issues at least a little redundant: some days I suspect there's so many people willing to claim "Goodfellas" as the greatest movie of all time because it's near impossible to find a week when basic cable isn't rerunning it.
That re-issues continue in other countries I'm forced to attribute to either people not having yet set up their HDTV home theaters or cultures that still privilege the theatrical experience as an end in itself. Most Americans don't, or even see a meaningful difference between seeing a movie in a theater or at home. So the theatrical re-issue is dead, barring 3D gimmickry; do not expect to see "Forrest Gump" on its 20th anniversary back on the screen, or even "Titanic" in 2017. From now on, it's all rep (ironically, since the movies previously most likely to be re-issued are the popular ones least frequently revived) or home video.
[Photos: "Pretty Woman," Touchstone, 1990; "Grease," Paramount, 1978]