Some of my best friends are remakes.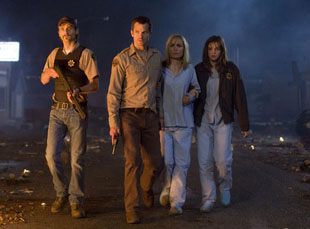 Posted by Vadim Rizov on
To say that you're anti-remakes is to film writing as opening and closing your mouth is to being a fish.
Every day, somewhere in the world, someone writes a diatribe about the evils of remakes; right now over at the Guardian, there're two. The former's a generic complaint about how Hollywood ruins foreign films with remakes, the latter a peculiarly venomous attack on Breck Eisner, who has the temerity to want to do three remakes in a row (this Friday's "The Crazies" leading the way to "Flash Gordon" and "The Brood") and has the misfortune to be Michael Eisner's son. As we all know, the only thing easier to mock than remakes is professional nepotism.
These tedious attacks on the remake are all the same: remakes miss the virtues of the original, dumb things down, tarnish memories, etc. It's dull, repetitive reading. It's also short-sighted — to opine that Hollywood once teemed with originality and fruitful new ideas is to ignore the fact that remakes used to happen faster.
Think it's bad that there's a new "Nightmare on Elm Street" coming at us only 26 years after the fact, a mere six years after Robert Englund's last incarnation of the original on-screen? How about seeing "The Front Page" redone as "His Girl Friday" nine years later? (For that matter, imagine learning of an equivalent remake with one character changed from male to female. Now imagine the comments page for that announcement.)
Sometimes it could take less than ten years: 1932's "What Price Hollywood?" and 1937's plagiaristically similar "A Star Is Born" came five years apart. The jump from silent film to sound was always a good excuse for a quick remake: Errol Flynn's "Captain Blood" was one, and his version of "The Dawn Patrol" was a gloss on a version made just eight years earlier, this time with better sound and more dialogue.
Not all older remakes were driven by technological process. Sometimes it just took time to get it right: 1941's beloved "The Maltese Falcon" was the third version in a decade. Do you see what I'm saying here?
It's true that, in recent years, most remakes have been unimaginative or downright disastrous. Then again, so are the vast majority of films. Still, in return we get "Gosford Park" or "Twelve Monkeys," movies that aren't so much remakes as enthused annotations or alternate approaches. So why waste your breath on remake aversion? The worst ones can't be stopped, and the best ones are worthy.
[Photos: "The Crazies," Overture Films, 2010; "A Nightmare on Elm Street," New Line Cinema, 2010]