Rap Biopic – Goes Global (ft. Bushido).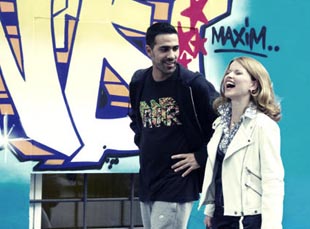 Posted by Vadim Rizov on
Here in the states, "Avatar" was finally stricken from the top of the charts by "Dear John," equally gooey but less dragon-tastic. But in Germany, Cameron's film was done in by "Times Are Changing," a biopic of rapper Bushido. Bushido, in case you've not been keeping up on your German hip-hop, is a relatively controversial guy, whose lyrics once proposed "we'll take every faggot and beat him up" and (equal opportunity!) "Just because you're a woman, doesn't mean I won't beat you till you're blue."
There are questions of whether the formerly vile Bushido is now really reformed or just cannily marketing himself to appeal to the "bourgeouis press" (as Rolling Stone's German editor put its). But that's beside the point — like Eminem before him, Bushido is running from hip-hop success to mainstream cinematic glory, which (somehow) legitimizes his lyrics as self-expression, as long as he plays nice with the press.
For all the talk bandied around for at least the last 20 years about how hip-hop represents the present and/or the future better than any other musical movement, hip-hop biopics/movies have been few and far between. When they've been made, they've invariably been helmed by older white males: Curtis Hanson (57 at the time of "8 Mile"), Jim Sheridan (56 for "Get Rich or Die Tryin'"), David Kellogg (a commercials/music video/Playboy video director who was 39 when he made "Cool As Ice"). Even the African-American George Tillman Jr. was 40 by the time "Notorious" came out.
There are surprisingly few hip-hop musicals to point towards, much less hip-hop biopics. The few movies made about rappers have been about commercially massive figures with large white-black crossover fanbases, successful over multiple albums rather than one-hit wonders. Somehow this is considered a safer bet than "Nine." Those who don't fit that description can go the rapsploitation route if they're impatient.
Bushido's biopic will almost certainly not be seen here (Edel, by the way, is 63), but that doesn't really matter. What it means is that at those rare moments when a rapper, through whatever confluence of circumstances, can touch a nerve — political, commercial or both — in a country, he'll get the biopic he deserves, in all probability one designed to clean up his image. With hip-hop's current status and lasting influence very much up for debate, it's worth remembering that what the U.S. started isn't over by a long mile. Globally, it might just have begun to percolate in movies — ones whose issues and celebrities are presumably too local to translate, but might be even more enlightening for that.
[Photos: "Times Are Changing," Constantin Film, 2010; "8 Mile," Universal, 2002]