Putting the "I" in film writing.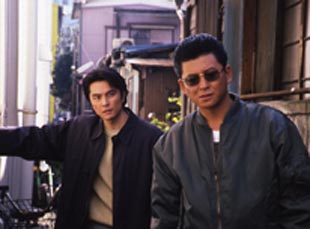 Posted by Vadim Rizov on
At a friend's party on Saturday, I talked to a former rabid cinephile who, four years ago, got rid of almost all of his DVDs and effectively quit watching movies. It wasn't clear whether this was because his life just got too busy or because he got to feeling too overwhelmed. If it's the latter, I'd completely understand, because the next day I found myself on the way to Lincoln Center's Kiyoshi Kurosawa double-feature while reading a book about film festivals, and, after the screening, chatting with five people I regularly (generally only) see at rep cinema.
I once heard Jim Jarmusch say, on a panel at SXSW, that (paraphrased) "I don't have time to see as many as I'd like. I probably only see three or four a week." I completely understood what he meant by saying that wasn't a lot — I see a lot of movies, but my enthusiasm's effectively peaked. Most don't make much of a dent — I'm mentally dicing them up as I watch them, tucking aside things to think about later and ignoring the dead air that seeps into all but the best films. I see maybe 20 movies in a good year that really knock me out, which isn't bad at all, but I don't get very excited anymore. Given that this is effectively compulsive behavior, I enjoy myself, honestly.
I realize this might strike some people as unnerving. Sometimes I agree. Clearly I'm not the only one: Salon's Stephanie Zacharek spends a good chunk of her last Berlinale dispatch worrying about "the importance of having a life outside the movies": "You sometimes need to step outside of movies in order to find your way into them."
Most daily film criticism (in English, anyway) is impersonal; even if the writer has a lively voice and is allowed to use the first person, they rarely stray outside the world of film to tell you anything about how they saw the film, what happened before and after or any related anecdotes it dredged up. Film festival reports may be the only time all year they're allowed to speak directly about themselves. Gleeful party-recapping interjections — or, more commonly, a melancholy tone with vague hostility directed at the festival as an entity — are a standard feature of these essays.
In "Sex, Drugs, and Cocoa Puffs," Chuck Klosterman explains that most sportswriters despise sports. "The worst part about being a sportswriter is that no one will ever have a normal conversation with you for the rest of your life. Everyone you meet will either (a) want to talk about sports or (b) assume you want to talk about sports… You may have insightful thoughts on the Middle East, but no one will care."
This tends not to be as true for film critics in my experience — everyone will think you're an elitist and weird and avoid the topic (one time I told a roomful of people I liked "Zodiac" and they refused to talk to me for the rest of the evening). I've toyed with telling people I work in insurance, which late "Fletch" writer Gregory Mcdonald used to do on planes to avoid conversation. (Unfortunately, I don't look like someone who plausibly works in insurance.)
So I sympathize with Zacharek's urges to remind us she has a life outside of film, as with all similar essays — when watching movies becomes a job, inevitably it's a kick to write about anything else. (A lot of the film writers I know are highly literate people in general; they want to write as much as they want access to the movies they're writing about.) Of course, once you're on the career path, it can become hard to remind people that — like most anyone who's not half-witted — you care about more than one thing. The problem isn't too many movies, necessarily: it's too much time writing about the movies and nothing but.
But the personal interjection can be a dangerous device, one which often comes off as unduly self-pitying. Unless you're blogging (hi!) from inside your head all the time (like Jeffrey Wells) and the interjections are a regular attraction, I think it's a bad idea. It's true a lot of daily film writing is rote — synopses and adjectives — but that's just lazy writing. Best to develop a worldview within the actual criticism rather than stop everything cold to remind people you're not just a viewing automaton.
[Photos: Kurosawa's "The Revenge: A Scar That Never Fades," KSS, 1997; "Fletch," Universal, 1985]