Saying no to "The Proposal 2."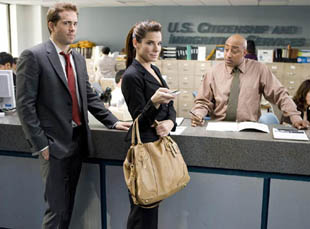 Posted by Vadim Rizov on
There are shock waves spreading throughout Hollywood! Shock waves, I tell you! The cause? Disney s passing on a sequel to "The Proposal," the profitable and relatively cheap ($40 million) Sandra Bullock monolith of cheer and romance.
For iPatrick Goldstein at the LA Times, the news is nothing less than "eye-popping." His headline: "Disney taking a pass on one of the most profitable movies of 2009?" Well, no; they actually made that one. What they're passing on is the chance to make a sequel to a romcom that ends, as all of them must, with an engagement and the promise of marriage. What a sequel could offer up — wacky divorce? There's surely no mandate to make it. I suppose, given the right series of scripts, Bullock and Ryan Reynolds could grow into the new Hepburn-Tracy but… nah, forget I said anything.
Nonetheless, Goldstein's annoyed: "It feels like every time you turn around, someone at Disney is trying to blow up the old model of doing business and replacing it with a snazzy new paradigm," he snipes. "You have to really want to get out of the movie star business to take a pass on raking in the shekels from a sequel with such built-in awareness and audience goodwill." The assumption here, I guess, is that "goodwill" means "willing to spend money on a clearly mercenary sequel to a one-off" — which was true for "Meet the Fockers," so god bless, though I'm blanking on other notable massive non-franchise sequel successes.
I'll say this for the blockbuster rat-race: when they think they can get away with a sequel or franchise, they build it into the nature of the material (or just figure out to resurrect Freddy again). The challenge of this new "female-driven blockbuster" will be to figure out how to franchise a genre that tends to end in marriage or death. The answer isn't clear yet — there are only so many Nicholas Sparks novels (a brand that always delivers), and shunting a star through a bunch of interchangeable chick flicks has, in the past, not been reliable for Bullock or others.
Then again, "Valentine's Day" has just proven you can't underestimate the appetite for any trend regardless of quality — until, inevitably, someone does and the whole house of cards comes crashing down and we have to find a new paradigm. The wisdom of the female-driven blockbuster, as outlined by The Wrap — i.e., every number one movie since mid-November that wasn't "Avatar" — is shaky, since you have to count "The Princess and the Frog" as a chick flick when it's clearly a family movie and you'd have to reckon with, like, the rest of the entire year and notably female-driven blockbusters like "2012" and "The Hangover."
You'd also have to explain why "Whip It" flopped (When is a female-oriented movie not female-oriented enough? When it doesn't come with marriage and nuclear families?) and "Post Grad" and so on. The "female-driven blockbuster," as it stands, seems like a number of hits strung together with some failures ("When In Rome" and "Leap Year" of late) that make less of a splash because the whole genre's relatively cheap.
Why one movies fails and another succeeds becomes irrelevant with that kind of math. The only possible explanation — women only started going to movies in November — somehow seems suspect. (The sadder explanation is that successful "female-driven" movies' mores haven't shifted much since Doris Day — the end-goal is the same.) This trend needs rethinking.
[Photos: "The Proposal," Touchstone, 2009; "Whip It," Fox Searchlight, 2009]