Plagiarism, criticism: what's the difference?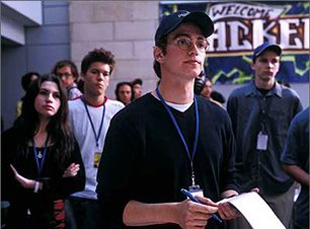 Posted by Vadim Rizov on
You may have heard about the scandal surrounding Australian junketeer Paul Fischer, who was caught straight-up taking chunks of his Sundance reviews from the catalogue's official synopses. My two-part reaction to this kind of news: First, "Wow, you have to be an idiot to plagiarize on the internet in this day and age." Second, "AS A HARDWORKING FREELANCE WRITER, I AM OUTRAGED." And then this other voice intruded — and it said: "Who cares?"
We're not exactly talking about Jayson Blair or Stephen Glass here: we're talking about a guy who wrote harried capsules of Sundance premieres for what the Vancouver Sun's Chris Parry unkindly but accurately describes as "mid-level online outlets." The fate of film criticism — or even the forward motion of the blogosphere — isn't at stake. And the reason people caught on, according to Parry, wasn't anything more sinister than complaints from filmmakers that negative reviews (since pulled from their host websites) were being propped up with blatant laziness.
But Parry goes on to detail how, for years and years, Fischer was a quote-whore of the most unregenerate kind without anyone but fellow critics noticing, placing him in the same category as the infamous Earl Dittman, Pete Hammond (late of "Maxim" magazine), et al. That apparently wasn't a problem, because plenty of readers who are totally cool with that. So why all the outrage over this indiscretion?
Film writers often think the wrong way about blurb-chasing — the argument is that especially soulless, careerist and traffic-grubbing writers are perfectly happy to churn out easily snippable adjectives of praise for the most implausible garbage in return for studio junket perks and traffic. And they blame the writers for this. But you know what? Blame the readers.
Most people don't want to read Cinema Scope or elongated theses on the work of Tsai Ming-Liang. They don't even want to know how, say, a blockbuster like "Sherlock Holmes" fits into the work of Guy Ritchie (a guy for whom plausible claims can be made) or doesn't or anything of the sort. What ordinary filmgoers want are, in fact, plot synopses (to see if it sounds interesting) and bottom line blurbs — to know that something is "exciting" or "scary" or "heart-pounding" or "hilarious" or whatever.
Which is fine, and no disparagement upon people who have no reason to spend most of their waking hours overanalyzing entertainment. We're all wired differently. When, say, "Norbit" director Brian Robbins celebrates the financial victories of his movies by claiming "The only films that get good reviews are the ones that nobody sees," he's correct in relative terms. Many of the movies that get "good reviews" do, in fact, get less of an audience — just take a look through the past year's indieWIRE critics poll.
So, in an odd way, I don't blame Fischer for swiping his material. He was just giving his audience what it wanted: simple, punchy ways to hyperbolize the entertainment value of what you're about to see. That Fischer's about to be drummed out of journalism wasn't a judgment of taste, a decision that enough was enough; it was a stupid plagiarism scandal. Otherwise, he would've kept working and no one would've really noticed except his fellow journalists.
Normal people don't complain about hacky critics; they complain about "elitist" critics and the great grey myth of the especially snobbish one who says "If you don't like it, you don't get it" (something I've never actually seen in writing). Blame Fischer? Sure. Drum him out? Absolutely. (I work hard; I don't appreciate his transgression any more than the next guy.) But the problem isn't this guy: it's a system congested on every level — blog, print, TV, what-have-you — with criticism where what harried readers, studios and editors want is exactly the same: short, simple and stupid. He's not the illness: he's the symptom. That he prospered for so long (and he's far from the only one of his kind) is the real scandal.
[Photos: "Shattered Glass," Lions Gate Films, 2003; "Norbit," Paramount, 2007]