Snubs, Stalin and stagnation amidst early Oscar reactions.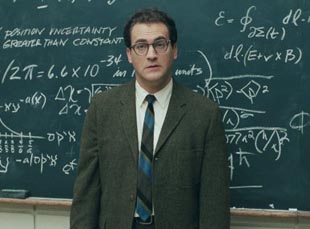 Posted by Vadim Rizov on
Last night, per tradition, there was a fake leaked list of Oscar nominations ("It's Complicated"!). This morning was the real thing, none of which struck me as particularly surprising, but what do I know? I'm no Oscar pundit!
Okay, there were some small surprises. In the now doubled Best Picture field, the Coen brothers "A Serious Man" crept in over the more awards-baiting likes of "Invictus" and "A Single Man," serving as a Serious source of glee for Hollywood Elsewhere's Jeffrey Wells, who calls out nine predictees who anticipated "Invictus" being nominated instead and chortles "If we were living in Stalinist Russia in the 1930s the above Gurus would be looking over their shoulders, changing the locks on their doors just in case, and wondering whether to plan extended vacations at the dachas or stay inside the Kremlin and wrangle it out with their enemies." Oscar time: serious stuff! Just like the gulags!
The good people who thought "The Hangover" was going to score a Best Picture nomination were disappointed, Golden Globe and all. Raucous, lowbrow comedy isn't going to be on the Oscar agenda anytime soon; the "vulgarity" factor (as I imagine is a common concern among elderly Academy voters) probably killed it off.
Certain pundits — the LA Times' Tom O'Neil, say — are convinced that the dual Best Picture nominations of "District 9" and "Avatar" signal that "a strong bias" (against sci-fi) has been "shattered," since only two sci-fi films ("Star Wars," "E.T.") have ever been previously nominated. Of course, the latter two are, respectively, the second and fourth-highest grossing films of all time, adjusted for inflation. ("Avatar"'s #21 right now.) As for "District 9," c'mon, South African racial allegory! Oscar voters get that.
In the category of "snubs" (a word I seem to hear at no other time of year), widely noted were the absence of "Invictus" for anything other than acting nods, Julianne Moore for "A Single Man" and Christian McKay's made-for-Oscar Orson Welles in "Me and Orson Welles."
Less widely noted: the grievous and frankly inexplicable absence of Marvin Hamlisch's score for "The Informant!" You'd think they'd take an opportunity to cheer on a veteran whenever possible, but no — we instead get James [profanity redacted] Horner, now on his 11th nomination (he won two for "Titanic") and well on his way to becoming the new John Williams.
In other Academy news: Lee Daniels is the second African-American director ever nominated (the first was John Singleton for "Boyz N The Hood"). And Steve Pond at The Wrap crunches the numbers to show that the five films with the most nods overall ("Avatar," "The Hurt Locker," "Inglourious Basterds," "Up In The Air," and "Precious") also accounted for five Best Picture nominations.
All in all, par for the course — those five films add up to much the same race as ever, unignorable box-office muscle and technology vs. awards bait, with Tarantino somehow in the middle of it. "Avatar" will win, duh; don't stay up nights worrying about "The Blind Side."
Onwards, upwards!
[Photos: "A Serious Man," Focus Features, 2009; "The Hurt Locker," Summit Entertainment, 2009]