Seven bronze-worthy Olympics movies.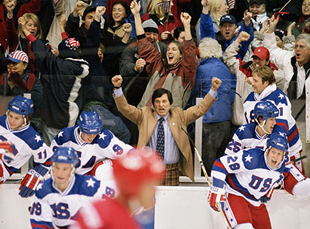 Posted by Vadim Rizov on
Today is your last chance to watch the Olympics on TV; Monday brings the closing ceremonies and the end of the 21st Winter Olympics. Would you like to keep the athletic spirit going all year round? Like, in the movies?
The sad fact of the matter is that most films about the Olympics aren't very good. Aside from a handful of valorized documentaries — "Tokyo Olympiad," the controversial "Olympia" — they're more like a genre you turn to for automatic cheese. Here, then, are seven of those:
"Walk Don't Run" (1966)
I've always had a soft spot for this comedy, perfunctorily set during the 1964 Tokyo Olympics but better known for showcasing Cary Grant's last performance. The plot's a bit of nothing, and it's all rather sexist and racist. You can get the feel from the trailer, below, which invites us to "Take a trip to the land of the rising fun" before going on to some language jokes that would make Sofia Coppola blush — but it's pretty fun, despite (or because of) that.
"Goldengirl" (1979)
This movie was intended as a TV mini-series pilot before it was recut for theaters — it's directed by the undervalued Joseph Sargent (of the 1974 "Taking of Pelham One Two Three"). The premise is that Curt Jurgens — sinister Teuton — has developed vitamins and hormones to develop a superior breed of person and uses adopted daughter Goldine (Susan Anton, best known for Muriel Cigars commercials) as a guinea pig, priming her to win three gold medals at the 1980 Moscow Olympics — the same Olympics, of course, that the US would end up boycotting. The clip below — a test press conference, with Goldengirl batting questions from pre-recorded reporters and a real-time laugh-track — is smart and surreal. Someone put this on DVD, please.
"Running" (1979)
More American running from the Moscow Olympics that didn't take from another rarity — Michael Douglas as a corporate lawyer drop-out obsessed with running. IMDb users seem uniformly enamored with this movie, and the ten-minute montage below makes a pretty good case. There's vintage New York footage from all over the city, Eugene Levy as his friend and a populist rage fit at the welfare office.
"American Anthem" (1986)
OK, so the Olympics aren't just about running. There's also gymnastics. Like Muhammad Ali — who played himself in "The Greatest" — 1984 Gold medalist Mitch Gaylord (the first American to score a perfect 10 in gymnastics) was given a movie despite a total lack of acting experience. Unlike Ali, he played "Steve" in Albert Magnoli's follow-up to "Purple Rain," which apparently traces a standard family-difficulty/love redemption arc. Forget that: dude trains on a bar set up in the forest? That's hardcore. As Roger Ebert pointed out in a tetchy review, the finale has "dozens of strobe lights flashing incessantly and distractingly behind the contestants. I guess these are supposed to represent camera flashbulbs." But, as he points out," have you ever thought what it says about our national IQ that a lot of people believe you can take a flash picture from the 20th row?" Point.
"Cool Runnings" (1993)
I couldn't leave this childhood favorite off. Surely the most sanitized portrait of Jamaica ever put on screen, "Cool Runnings" was loosely based on the first national Jamaican bobsled team, even if everything was predictably made up from scratch. It's not a great film, but it does have some low-key pleasures — John Candy at his relaxed best, a character named "Yul Brenner" — and hits pretty much inspirational-underdog beat on time. Of course, if you would like to watch it without blowing a Netflix slot, it's all on YouTube.
"Pentathlon" (1994)
The movie that answers the age-old question, "What if Dolph Lundgren was in the Olympics?" Eric Brogar (Lundgren) defected from East Germany years ago and is restarting his Olympic career as an American. Unfortunately, his old coach Mueller (David Soul) is out to get him. Mueller was a Stasi official who, post-reunification, has become a neo-Nazi mastermind, which — needless to say — doesn't actually make sense. The trailer promises that on the Lundgren scale of absurdity, this is pretty much a perfect ten. Just like Mitch Gaylord!
"Munich" (2005)
I suppose I should include a real movie of sorts here for balance. There's a lot to love about the first 2/3 of Spielberg's reconstruction of the aftermath of the 1972 Munich Olympics; for a while, this is as good a '70s thriller throwback as there ever was, recreating the awful Palestinian hostage-taking and murders of Israeli athletes. (It stacks up favorably against Kevin Macdonald's documentary "One Day In September.") Unfortunately, the last third is a mess, culminating in the lowlight of Eric Bana having sex with his wife while having flashbacks to Palestinians killing Israelis. The Olympics aren't supposed to work like that; spy thrillers neither.
[Photos: "Miracle," Disney, 2004; "Walk Don't Run," Columbia, 1966; "Goldengirl," NBC, 1979; "Running," Universal, 1979; "American Anthem," Columbia, 1986; "Cool Runnings," Disney, 1993; "Pentathlon," Live Entertainment, 1994; "Munich," Universal, 2005]