How Kathryn Bigelow's non-political movie has gotten politicized.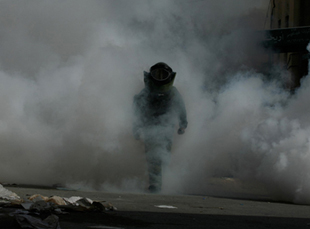 Posted by Vadim Rizov on
"The Hurt Locker"'s biggest achievement has been to get people to talk honestly about how we depict war on screen in a way that hasn't happened in a long time, with everyone's cards and biases on the table.
That effect is helped by the vicious feedback loop of Oscar season, where the need to generate daily content about the same material leads to all kinds of weird, non-critical voices being unleashed — which may be the only good thing about awards season.
In the case of "The Hurt Locker," every laudatory review reminded us that the movie was "apolitical," presumably in the hope of sucking in those who didn't want another "Lions for Lambs"-type harangue. And it worked. So why did Kathryn Bigelow feel the need to let it drop last week that this apolitical film does, in fact, take a stand against the war and can hopefully "bring closure to this conflict"?
A few days later, she told The Wrap's Steve Pond she feels war is "hell, and a real tragedy, and completely dehumanizing… We made a real effort to portray the brutality and the futility of this conflict." You'd think she could've dropped this little nugget a while ago — but then again, that wouldn't have helped the film commercially, while it might very well curry favor with the Hollywood establishment, who like lectures.
Melena Ryzik — the new Carpetbagger at The New York Times and by far the least hysterically inclined of the Oscar bloggers — believes that this Newsweek essay from combat veteran Paul Rieckhoff complaining of rampant accuracy could derail Oscar chances. Rieckhoff doesn't just find the film inaccurate, he thinks it shows a lack of "respect for the American military." This isn't a new complaint, dating back at least to last July, sprinkled largely over veterans' sites and the inevitable right-wing grumbling. But no one really cared til it was awards season; the discussion about How We Portray War Now was deferred. Now that it's February, suddenly everyone's listening.
For others, if the film isn't explicitly criticizing the soldiers, then it's a failure, end of story. And so Salon readers were treated to a splenetic essay by Cineaste associate editor Martha P. Nochimson, who notes that "Our field of vision is so completely limited to [Will's] expertise in defusing bombs and dealing with invisible enemies that our capacity to think about the larger context of the American presence in Iraq is replaced by nuance-free instincts more characteristic of the tea party movement." Again please? A lack of visual depth means you're endorsing Ron Paul?
Nochimson also puzzlingly calls Bigelow the "Transvestite of Directors" because she traffics in "filmmaking soaked in a reduced notion of masculinity" — a criticism that, at the very least, traffics in a reduced notion of femininity. (She goes on to suggest we admire Nora Ephron instead. Nothing reductive about that.)
Some of the most dazzling insights on film I've heard have come from unexpected angles or sources. But there's something toxic about the combination of politics and Oscars that seems to bring out the worst in people. The veterans' complaint are their own and just — but to bring them into awards season is the worst kind of parity. (As for Nochimson, I guess she must be an "Avatar" fan. There's nothing less restricted in field of vision than 3D.) There are real moral issues at stake here, but they're unresolvable in any kind of objective fashion. To suggest the film is better or worse because it's "anti-war" or "apolitical" or whatever cheapens both the off-screen issues and lend the awards chase an undue importance.
[Photos: "The Hurt Locker," Summit Entertainment, 2009]