What "Paranormal Activity" has to do with Mussolini.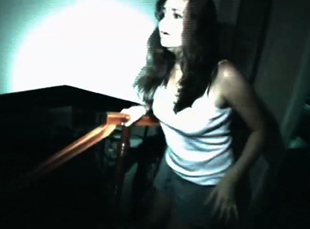 Posted by Vadim Rizov on
You thought you were done with "Paranormal Activity"? Well, "Paranormal Activity" isn't done with you. While "Dear John" was busy knocking "Avatar" off the top of the charts here, Germany did the same with domestic rap biopic "Times Are Changing" and Iceland succumbed to the enjoyable looking "Mr Bjarnfredarson," "Avatar" was busy having its per-screen average topped in Italy by "Paranormal Activity."
But all is not well: across Italy, children are having panic attacks, because someone had the bright idea to release it with no age restrictions! In Naples, especially, Saturday night saw dozens of calls to emergency services to report panic attacks — children with irregular heartbeats, fears of dying, and one 14-year-old girl who arrived catatonic (!) at the hospital. SCARIEST MOVIE EVER.
Not everyone is so impressed. Newspaper La Stampa ran a front-page editorial noting that, in generall, Italy's in one hell of a mess in general: "Parliamentarians, do get upset about the paranormal, but if all the rest seems normal to you, maybe you are also a bit paranormal?" (Shaky translation via ABC, but you get the idea.) And perhaps it's no coincidence that the majority of the calls are from Naples, aka "Gomorrah," home to large levels of organized crime.
Even "Paranormal Acitivity," it seems, can be turned into a political football for shamelessly self-promoting Italian politicians. The story also provided a reminder that Mussolini's granddaughter is a force in Italian politics, currently heading a parliamentary committee on children. Alessandra Mussolini isn't just a politician, but an apologetically right-wing one who once answered charges of fascism from a trans-gendered candidate with the line "It is better to be a fascist than a faggot."
With the aforementioned "Gomorrah," Berlusconi documentary "Videocracy" (opening in NYC today), secret-life-of-Mussolini drama "Vincere" and the satirical Andreotti biopic "Il Divo," you have to wonder how "Paranormal Activity" could possibly measure up to the scares to be found in Italy's recent cinematic self-portraits.
By the way, in 1982 Alessandra Mussolini recorded an album of love songs called (duh) "Amore," released only in Japan. Here's her Japanese-language version of "Tokyo Fantasy" (wrap your head around that!):
[Photos: "Paranormal Activity," Paramount, 2009; Alessandra Mussolini via Wikipedia Commons, photo by Giuseppe Nicoloro, 2007]