How Michelle Williams conquered the "Creek."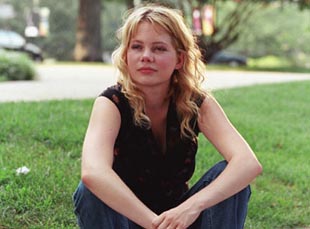 Posted by Vadim Rizov on
"Shutter Island" 's financial triumph over the weekend marks the first honest-to-goodness big-budget Hollywood success for Michelle Williams in over a decade. Not since the (underrated) "Dick" has Williams set foot in something designed for simultaneous consumption on thousands of multiplex screens. Instead, she's chosen to do arthouse time without a pause — not, you'd think, how "Dawson's Creek" was supposed to work, no matter how many movies Dawson watched with his mom.
Wikipedia's one-line summary claims Williams is still best known for the "Creek," "Brokeback Mountain" and "her relationship with Heath Ledger," which sounds like an exhausting reputation to carry around — one dated TV show, one semi-controversial flashpoint movie and a relationship with arguably the most high-profile actor to die prematurely in the last decade.
Virtually all of Williams' "Dawson's" co-stars tried to break out of TV into features via the arthouse, but she's the only one who's made a viable career out of it. That doesn't mean she has made her fair share of lousy indies destined for instant post-Sundance purgatory — I was particularly annoyed by "The Hawk Is Dying." And it took some time for her to achieve "Dawson's Creek" cast victory — while James Van Der Beek was making "The Rules of Attraction" and Katie Holmes "Wonder Boys," Williams was acting in "The United States of Leland."
Williams has managed arthouse A-list status thanks to her predilection for name-brand filmmakers (if not always the strongest of screenplays). This meant being in the dreadful Wim Wenders movie "Land of Plenty," but it also "I'm Not There" and "Synecdoche, New York." Her turn in "Wendy and Lucy" could have just come off as "Look at me without make-up!", but instead became something that boosted both her and Kelly Reichardt's careers (they're now making a western together). Williams is pretty much a practicing autuerist, increasingly choosing her parts based on the director rather than the script.
Going from teen TV star to film has always been a perilous journey, one that Williams has achieved with more grace than most. Her star shines brighter than the kind of lower-budget fare she's chosen for herself would indicate, though she's earned so much respect I never see the series that made her famous name-checked in her reviews any longer — a rare escape that, say, Neve Campbell would kill for.
[Photos: "Dawson's Creek," 1998-2003, Sony Pictures Television; "Wendy and Lucy," 2008, Oscilloscope Pictures]