"The Killer Inside Me": Life is hot in noirtown.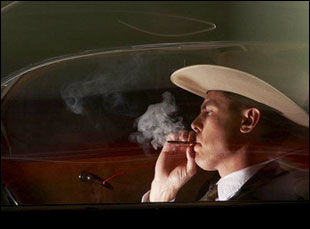 Posted by Alison Willmore on
Reviewed at the 2010 Sundance Film Festival.
Michael Winterbottom's "The Killer Inside Me" is a pedal-to-the-floor, broken-bottle-to-the-throat adaptation of a novel of the same name by Jim Thompson, the darkest and pulpiest dark pulp writer of them all. The opening sequence (after gloriously retro opening credits): West Texas hometown boy turned deputy sheriff Lou Ford (Casey Affleck) gets sent to a house in the outskirts of town to run off a prostitute. She turns out to be Jessica Alba in a kimono, and she doesn't take making his acquaintance well. She slaps him a good one one, and something behind that baby face snaps, and he holds her down and beats her with his belt until she's weeping. He apologizes, she turns over and kisses him. Now they're in love.
You can see why "The Killer Inside Me" so enraged a sizable chunk of its Sundance audience, and that's before even touching on the two instances in which Lou, whose downhill spiral is more like a jump off a cliff, devotes himself to methodically beating a woman to death. Flesh bruises and bleeds and swells beyond recognition, skin tears, urine puddles on the floor. It's pretty vile, but, as a colleague put it, is that really something we'd want prettied up? Lou's not by any means a nice guy — he can't be contained by even the broadest definition of an antihero, he's just a newly loosed psychopath we're bound up with on a heedless gallop toward hell.
And I can't say there's not a tremendous amount of glee to be found in that. "The Killer Inside Me" is set in a world in which everyone's a voluptuously pulp archetype — Ned Beatty is the manipulative construction king, Jay R. Ferguson his dissolute scion, Elias Koteas the corrupt union boss, Tom Bower the alcoholic sheriff, Liam Aiken the budding juvenile delinquent; Kate Hudson the town sweetheart far too willing to stand by her man… by the time Bill Pullman strides in, hair flapping, as a belligerent lawyer whose theatrical shouts echo down the corridor, you're either grinning like an idiot or you've walked out. Why not stick with the killer, in this context? The town's brightly blown-out enclosures and lean shadowed nights make it seem like some sort of Edward Hopper snowglobe filled with gasoline, all set to blow.
Winterbottom doesn't truck much with Lou's motivations and backstory, presented as a jangle of quick flashbacks — mother who lays the unhealthy groundwork for his future relationships with women early, molestation of a local girl, stepbrother who tries to protect him. You'd have to read the book to fully understand what sparks his initial crime (revenge…ish) or to grasp that Alba, playing an utterly unconvincing S&M siren, is meant to be the dark force that first pulls him down his wayward path. They're just excuses, anyway — sometimes a psychopath is just a psychopath, no matter how long he's managed a mask of normalcy. Mostly, the film's about the pleasures of watching whey-faced, forever compelling Affleck be, as the lady once put it, "rotten to the heart."
"The Killer Inside Me" has been acquired for release by IFC Films.