Kevin Smith's next movie might land you in the "Red."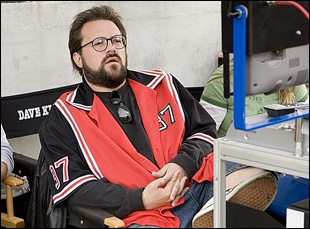 Posted by Stephen Saito on
Kevin Smith's first studio-backed comedy "Cop Out" (there's a red band trailer here), hasn't yet hit theaters, but the director is already talking about a return to the independent world. As in really independent, with his long-rumored horror script "Red State."
Smith once told MTV the proposed film was "not a commercial movie by any stretch of the imagination." So instead of shopping the script around to studios, Smith spilled the beans during a roundtable interview that he's in the process of setting up a site where fans will be able to donate money to the film's budget and he'll match them dollar for dollar.
As a writer/director who constantly keeps in touch with his fanbase, whether it's through his stand-up concerts throughout the country, his weekly SModcast or his Twitter account, Smith is the rare filmmaker who might be able to pull something like this off. But he wouldn't be the first to try.
Back in 2003, "Mother Night" director Keith Gordon tried to raise funds for an adaptation of the Lisa Reardon novel "Billy Dead," with Ethan Hawke attached to star, through a public stock offering that was targeted to give the film a $7.3 million budget through $8.75 contributions by Joe Public. Since the film hasn't been seen floating around the festival circuit, you'd be right in assuming apathetic film fans left "Billy" for dead.
Of course, Gordon doesn't have the following of Smith, and 2003 was a less connected time — Facebook and Twitter hadn't been created yet to spread the word. Today, filmmakers are actively asking for help online, whether it's Ashton Kutcher requesting a clever one-liner on set or Yair Landau, the founder of Mass Animation, a company that created the short "Live Music" that was attached to "Planet 51" last fall through Facebook submissions. The Beastie Boys even relied on fans to shoot their 2006 concert doc.
That said, free labor appears to be easier to come by than dollars, and even a filmmaker as internet friendly as Smith, who was a MySpace marketing pioneer when he attached 10,000 of his "friends" to the end credits of "Clerks II" in 2006, will probably find it hard to cobble together a worthwhile budget. He's already acknowledged the inherent tax-related issues of setting up such a site in the same interview.
If Smith were to succeed, the result probably won't help unknown filmmakers, who are eternally damned to rely on the kindness of friends and relatives, but could push some name directors towards making projects considered untenable by studio standards a reality. Let me be the first to suggest Whit Stillman's long-gestating Jamaican-set "Dancing Mood," for starters.
[Photo: Kevin Smith on the set of "Clerks II," Weinstein Co, 2006; "Awesome; I Fuckin' Shot That!," THINKFilm, 2006]