Jeff Buckley and William Shakespeare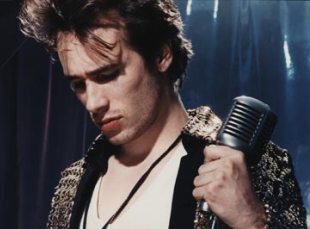 Posted by Brandon Kim on
Another re-telling of Shakespeare's classic tragedy, "Romeo and Juliet" is set to be adapted with with the music of the late Jeff Buckley. Thankfully it's a stage production, not a film, which would most likely be quickly be over-scored, overproduced and overblown.
[The most infamous image of Jeff Buckley, from the cover of Grace. Photo by Merri Cyr]
It's the first to be created with the blessing of Buckley's estate, executed by Mary Guibert, Buckley's mother. She even collaborated in the conception and plays a key role for the development of the whole show, reports Variety.
I'm always wary of Shakespeare when modernized, not a fan of "Romeo + Juliet" or the like. The "+" sign was so clever, so modern. But this pairing has merit and could be a match made in heaven, if heaven were brimming with grievous sorrow.
"For never was a story of more woe
Than this of Juliet and her Romeo."
I especially like the pick, "Lover, You Should've Come Over" from Grace that is reportedly integral to the production – which merges the 1990's Buckley songs with original 1590's dialogue taken from Shakespeare. Also known to be included is the more raucous, "Eternal Life," also off Buckley's sole studio release. There is no confirmation about any material from posthumous releases.
The play is called "The Last Goodbye," and slated for the 2010-2011 season. I'm still waiting for a biopic starring James Franco too, for better or worse.

"Lover, You Should've Come Over" – Jeff Buckley.