Watching movies from inside books.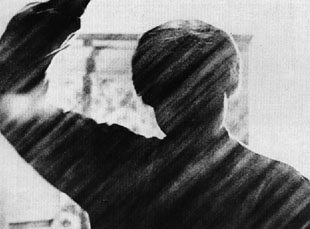 Posted by Vadim Rizov on
Don DeLillo's new novel "Point Omega" is narrated by a documentarian and begins and ends with a description of Douglas Gordon's "24 Hour Psycho," a 2006 MoMA installation in which Hitchcock's film was slowed down to stretch over a day and night.
Maybe that's why everyone writing about the book seems more focused on DeLillo's obsession with movies than with how it ranks in his canon. At the New York Times, Geoff Dyer, who knows more than most about art criticism (check out his own recent novel "Jeff in Venice, Death in Varanasi," set during the 2006 Venice Biennale) sees DeLillo's take on "24 Hour Psycho" and raises him with Gordon's "5 Year Drive-by," which played "The Searchers" in "real time" — one frame every 20 minutes.
At the Boston Globe, Mark Feeney's interested in DeLillo's ongoing relationship with more mainstream movies — he points out that DeLillo's voracious cinephilia is all over his work, with references to a meat-and-potatoes studio release like "Act of Violence," fake Eisenstein movies and Robert Frank.
Trying to think up a systematic list of other novels that include interesting invocations of film is surprisingly hard. The movies that characters watch seem to me to mostly get used for banal texture, like in Jhumpa Lahiri's stupefyingly dull "The Namesake," where the kind of films being invoked tell us something about class in New York City (they go to see an "Antonioni double-feature" — do they even have those anymore? — and a revival of "Alphaville").
In "High Fidelity," the pop-culture-crazed Rob Gordon meets an ex — now a film critic — at a screening of what's clearly "Raise the Red Lantern," a nice easter-egg that's hard not to recognize if you've seen it. During the time James Frey was pretending he wasn't a fraud, an inspiriational speaker in "A Million Little Pieces" enters to "the theme song from a famous boxing journey about an unknown Palooka from Philadelphia who almost wins the Heavyweight Championship," which seems like an awfully complicated way of saying "Rocky."
I'd be curious to hear people's favorite examples. If you haven't read Paul Auster's "New York Trilogy," you really should if only for the great passage about "Out of the Past" in "Ghosts" (part of which can be found here). But I'll nominate the slightly more obscure and underappreciated Frederick Exley for a spot of honor.
One of the best and most underappreciated American writers of the 20th century from where I'm sitting (with a small but rabid cult following), Exley wrote three self-flagellating memoirs about his alcoholism, sexual voracity, sports fanaticism and thoughts on literary matters, roughly in that order. It's constantly disturbing and almost always hilarious.
Exley spends a lot of time watching TV: he interrupts 1974's "Pages From A Cold Island" for four pages to rant about how he's "always believed [Ben] Gazzarra one of the most shamelessly affected actors in the business […] he made walking to the sink for a glass of water appear the end of an exhausting quest."
But Exley watched movies too. Towards the end of "Last Notes from Home," he runs into father-and-son racketeers from his hometown of Watertown, NY, who've just seen "The Godfather" and weren't impressed: "Howie told me how 'Pop' had, to the consternation and extreme ire of those viewers seated around them, laughed all the way through it, including laughing at those places the audience was accepting with a reverent solemnity. When they were leaving the theater, Howie said, Pop, still chuckling helplessly, had turned to him and said, 'Howie, that was the most hilarious Guinea fairy tale I ever saw.'" Now that's a critique.
[Photos: "Psycho," Universal, 1960; "TV Guide" cover of Ben Gazzara, Feb. 3, 1968, OpenGate Capital]