When talking about your influences works against you.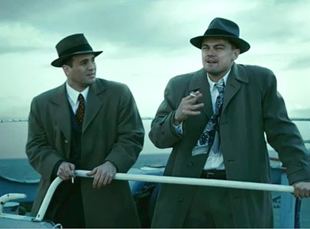 Posted by Vadim Rizov on
Quentin Tarantino — after years of enthusiastically proselytizing on behalf of his favorite films (all 3,000 of them) — seems to finally be getting a little edgy about discussing his influences. And for good reason. "Every time [critics] review my movies," he complains to Patrick Goldstein at the LA Times, "it's like they want to play chess with the mastermind and show off every reference they can find, even when half of it is all of their own making. It feels like the critics are IMDB-ing everything I do. It just rubs me the wrong way because they end up using it as a stick to beat me down with."
It's fair. If you're going to attack Tarantino, the first thing you typically do is cite him for plagiarism, which for me is missing the point — the locations and sequences he films are always slowed down to his distinctive pace.
So why is Martin Scorsese celebrated for his cinephilia while Tarantino's is held in evidence against him? Maybe because it's rare for Scorsese to directly quote, although he's allowed himself to do so more frequently as his career's moved along. Still, in "Raging Bull," you can see where all that love of Kenneth Anger went during the boxing sequences, and the most typically Scorsese-an films (the ones with De Niro and the retrotastic "The Departed") have more of those, linking back to past films Scorsese loves and has made.
Tarantino has no problem borrowing dialogue and shots and whole musical cues (including, in both "Jackie Brown" and "Inglourious Basterds," the the theme songs from other movies). And he's done this from the get-go, making it all his own, but certainly not hiding his references. It's worth noting that the almost-as-controversial Wes Anderson is equally overt in what he cops, both in terms of shots and soundtracks, the difference being that because he swipes from widely respected, highbrow-approved films, people are willing to give the benefit of the doubt sight unseen. With Tarantino, the fanboy frame of reference automatically places him under slightly greater suspicion.
'90s directors more circumspect about their film geekery get a pass in general. For all his Altman love, P.T. Anderson's never restaged any of his sequences. Richard Linklater adores Bresson, but it's hard to pick up on that in his films if you don't already know (he has the same preference for placing awkward non-professionals at the center of attention).
Because Scorsese draws upon more respectable sources, he goes unquestioned. But the very nature of the cult films Tarantino talks up is to have brilliant bits buried in the middle of tedium; of course harpy critics will suspect he just strung a bunch of those bits together. And people distrust geekish cinephilia in general — it's less fashionable now than during the '70s. That goes double for overt quotations.
[Photos: "Shutter Island," Paramount, 2010; "Cat People," 1982, Universal]