IFC's Noise Pop festival ticket sweepstakes!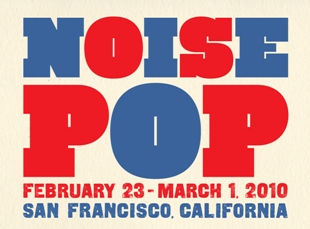 Posted by Brandon Kim on
San Fransisco's Noise Pop Festival celebrates it's 18th anniversary this year, just old enough to have sex but not yet old enough to drink, yay! A tough line up of local, alongside national and international bands, and some great films await this year's Noise Pop festival goer.
IFC is determined to help get you in too. We're giving away a pair of badges to the festival that will get you and a friend into all general admission concerts and films.
More info and a form to enter is here: Noise Pop Tix!
Noise Pop runs for 7 days, Tuesday, February 23rd through Monday, March 1st, 2010. There are more bands playing than I can possibly list, but here's a few highlights that caught my eye (clicky for artist page and streams):
YOKO ONO PLASTIC ONO BAND (WITH CORNELIUS, YUKA HONDA, SEAN LENNON)
There are films screening too, among them are wonders such as:
"ALL MY FRIENDS ARE FUNERAL SINGERS"
Director Tim Rutili.

Check out this interview with Rutili about his band Califone and directing his first feature film.
"P-STAR RISING"
Director Gabriel Noble.

"THE HEART IS A DRUM MACHINE"
Director Christopher Pomerenke.