"Homewrecker," the crazy chick and the convict meet cute.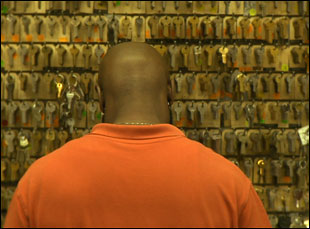 Posted by Alison Willmore on
Reviewed at the 2010 Sundance Film Festival.
"Homewrecker," the winning entrant in Sundance's inaugural low-budget NEXT program, won me over with an early scene at an upscale Chelsea bistro. Mike (Anslem Richardson), a locksmith who's out on work release, has essentially had his day hijacked by Margo (Ana Reeder), your archetypal crazy chick. She thinks her boyfriend Charles (Stephen Rannazzisi) is cheating on her, and insists Mike follow Charles into a restaurant to strike up a casual conversation with him and figure out if her suspicions are true.
It's all terribly sitcom set-up, and you're wincing in anticipation of the awkward hijinks that are sure to ensue when the black convict tries to talk to the uptight white gallery owner he's never met before about the intricacies of his dating life. But Mike asks him Charles if he thinks the shoes he's wearing will be okay for a date, tell Charles he's just out of jail and is out of practice, and Charles is immediately disarmed. "I'm happy for you," he tells Mike. And he means it.
And so goes "Homewrecker," a slight but charming comedy from brother filmmaking team Brad and Todd Barnes that keeps undermining its own strenuously quirky set pieces with an overwhelming generosity towards its characters, who are allowed to expand far beyond the labels I've just pinned on them. In "Homewrecker"'s New York, people are genial and open — not unnaturally so, but just enough, enough that life in the big bad city might not seem so hopeless for a fundamentally nice guy who believes in true love and who's just trying to get back on his feet. Even loopy Margo, who has the potential to be a seriously problematic character, is just grounded enough to keep tugging sympathy periodically back to her side.
"Homewrecker" does not yet have U.S. distribution.