Why can't she be Audrey Hepburn?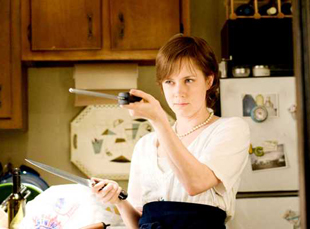 Posted by Vadim Rizov on
For over a decade now, a screenplay called "Why Can't I Be Audrey Hepburn?" has been floating around Hollywood. Téa Leoni and Jennifer Love Hewitt were both attached at various points to the story of a Hepburn-obsessed woman left at the altar who meets a man just as Audrey-centric as she. I can't stand Hepburn (don't ask), but on one level it does seem strange that this movie never got made — the cult of Audrey is vast and obsessive.
Or maybe it isn't that strange. Hepburn is venerated for her loveliness and her fashion sense, but she's also a model of carrying oneself appealingly but chastely — she was perfect and untouchable. She never needed to quibble over a nude scene. And clearly this is an issue that endures. Take these three unrelated recent interviews with Dame Helen Mirren, Daryl Hannah and Amy Adams, in which the subjects return, time and time again, to the burdens that come with their looks.
Mirren complains about how no one in the '70s wanted to talk about anything but her breasts and mentions an appalling interview from the period that's basically about nothing but. Hannah talks about how she's never had a facelift, counter to tabloid theories ("I wouldn't. I'm just not that kind"). And Amy Adams has the weirdest interview in discussing her squeaky-clean, asexual persona. "I don't present myself to the world like: everyone has to see my bits… There are a lot of women out there like me. I think it's something that's more fun to discover than to put out there."
Aside from the frightening thought of a nation of women all aspiring to be as gratingly perky as Adams (has any recent chick-flick-ish heroine been so widely despised as her incarnation in "Julie & Julia"?), it's striking to see Adams discussing herself in such Hepburn-ish terms. The interview tries to position Adams as a kind of anti-Megan Fox: "in this age of Megan Fox-style sexuality-as-a-weapon, Adams's attitude is actually quite rare." Which is nonsense: Fox is the anomaly, which is why people keep talking about her… Or did I miss something about Kate Hudson's insane vamping?
It's depressing to see these interviews still circling the sexuality/thespian divide. Here's a random cluster of prominent actresses from the '70s to the present, still kicking around this question about being taken seriously. They should film that screenplay just to put it out in the open: What is it with the cult of Audrey, the feyness that's the only defensive position against being sexually labeled? The fact that actresses are still sorting out their physical attributes from their "serious work" is sad. Hepburn's legacy wasn't fashion; it's chastity as a weapon against being sexualized against your will.
[Photos: Adams in "Julie & Julia," Columbia Pictures, 2009; Mirren in "Caligula," Penthouse Films, 1979]