Heirs to the box-office throne.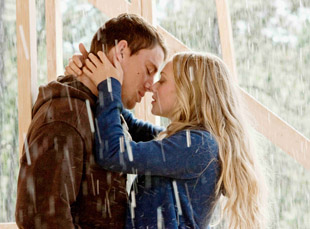 Posted by Vadim Rizov on
The LA Times has good news for us: this weekend, "Dear John" could knock "Avatar" from its number one spot on the top of the box office charts! If not, "Valentine's Day" the weekend after will certainly do the trick. As an afterthought, they note that "If it is indeed the movie that pushes 'Avatar' out of first place, 'Valentine's Day' will be the second straight New Line film to unseat a Cameron-directed smash — 12 years ago, 'Titanic' was finally dethroned by New Line's 'Lost in Space.' "
This made me laugh. It has to be as useless a piece of seemingly significant trivia as all that NBA crap about two-game slumps and records in home stadiums against opposing teams going back to 1996 or whatever. Also, no one actually remembers "Lost In Space"; it was a big old flop most people didn't see, a punchline from the moment it came out. But it fits: most of the movies that perform the seemingly "important" task of dethroning the champ are worthless.
For example: in 1982, the wide release of "E.T." (number three domestic of all time, adjusted for inflation) was bumped off the top in its eighth week by "The Best Little Whorehouse in Texas," the dimly remembered Burt Reynolds-Dolly Parton musical. "E.T." kept returning to the top though, being knocked off multiple times before resurfacing. And the movies that kicked it off? "Friday the 13th Part III," "An Officer and a Gentleman" (twice), "Amityville II: The Possession." That tells us a lot about what mainstream moviegoing in 1982, but it means nothing about the lasting impact of "E.T."
Want more? In 1980, "The Empire Strikes Back" was knocked from the top during its opening limited release by the unholy duo of "Bronco Billy" and the long-forgotten Dudley Moore comedy "Wholly Moses!" In wide release, it was dethroned by…"Smokey and the Bandit II." "The Return of the Jedi" was first kicked off the number one spot by "Superman III." "Raiders of the Lost Ark" was knocked down by "Superman II" and "The Cannonball Run." "Jurassic Park" went down under the body blows of "The Firm." And so on.
There's no harm in this kind of number-crunching and game-playing, certainly; it gives people something to write about. But it's completely irrelevant that "Avatar" won't beat "Titanic" 's 15-weeks-straight number one status. That kind of information just doesn't matter, except to extrapolate what crappy filmgoing was like in a given year aside from the highlights we're all already familiar with.
[Photos: "Dear John," Sony Pictures Releasing, 2010; "Bronco Billy," 1980, Warner Bros]