Gorillaz "Plastic Beach" teasers!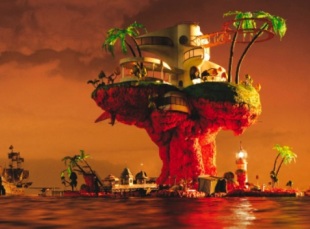 Posted by Brandon Kim on
Everyone's favorite cartoon band returns with their third album, "Plastic Beach." The first single, "Stylo" featuring Bobby Womack and Mos Def already made the rounds, and the full album follows due out March 9th. Other notable guest stars joining Damon Albarn and Jamie Hewlett on the project are Snoop Dogg, Mark E. Smith, and Lou Reed. I kind of can't wait to hear Mark E. Smith ramble on with this crew.
The Gorillaz will also kick off a headline appearance this year at Coachella, Sunday April 18. It'll be the first live Gorillaz blow out since 2006. Check out these animated teasers:
Tons more at Gorillaz.
Full track list:
1. Orchestral Intro
2. Welcome To The World Of The Plastic Beach (feat. Snoop Dogg and Hypnotic Brass Ensemble)
3. White Flag (feat. Kano & Bashy)
4. Rhinestone Eyes
5. Stylo (feat. Bobby Womack and Mos Def)
6. Superfast Jellyfish (feat. Gruff Rhys and De La Soul)
7. Empire Ants (feat. Little Dragon)
8. Glitter Freeze (feat. Mark E Smith)
9. Some Kind Of Nature (feat. Lou Reed)
10. On Melancholy Hill
11. Broken
12. Sweepstakes (feat. Mos Def & Hypnotic Brass Ensemble)
13. Plastic Beach (feat. Mick Jones & Paul Simonon)
14. To Binge (feat. Little Dragon)
15. Cloud Of Unknowing (feat. Bobby Womack)
16. Pirate Jet