Eulogy for the little black-haired ghost girl.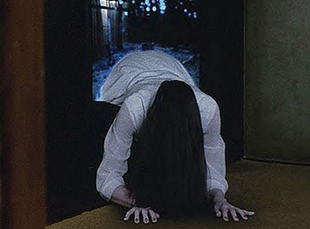 Posted by Vadim Rizov on
Tim Burton couldn't make it out to the Annie Awards a few weeks back, so he did the next best thing — he sent a video, in which a standard-issue speech is interrupted by the arrival of a long, black-haired, presumably Japanese girl, who wreaks cheesy havoc upon him and then snarls into the camera, thereby neatly splicing together J-horror, camp and the ending of "Paranormal Activity."
It's clever, but it's also a reminder of how long it's been since we've gotten to see one of those creepy, skulking black-haired ghost girls crawl with infinite menace and purpose. In an era that really only ended two years ago but seems much longer, we in the States were inundated with a flood of J-horror remakes after "The Ring" that seemed like they might go on forever; the cycle appears to have petered out sometime after 2008's "One Missed Call" remake.
The strange thing about the first of these remakes is that they made very little effort to disguise their origins. Someone made the strategic decision, at first, that a J-horror film without a Japanese girl (or at least some glossy long hair) wasn't worth much. In both "The Ring" and "The Grudge," therefore, they came for us (Daveigh Chase in the former, the original's Takako Fuji in the latter). The funny thing is that these are the only two J-horror remakes I can think of that actually kept the long-haired Japanese ghost girls, but everyone always whined about how "long black-haired girl" = J-horror. Which was true — in Japan — but two movies is not precisely an overwhelming trend.
In any case, kudos to an icon with deep historical "roots" (heh) for creating an instantly under and new kind of monster everyone quickly understood: an unusual feat, arguably the first of its kind since the arrival of zombies over 40 years ago. Now, thanks to "Paranormal Activity," we're going to experience years of shaky-cam terror, making the J-horror thing look positively beatific by comparison.
Here's a trailer for 2007's "Ekusute: Hair Extensions," a Japanese movie that evidently took the genre to its logically self-parodying conclusion.
[Photos: "Ringu," 1998, DreamWorks Home Entertainment; "The Grudge," Columbia Pictures, 2004]