In defense of "Freddy Got Fingered."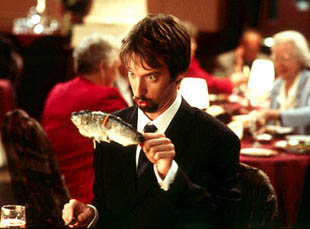 Posted by Vadim Rizov on
If you thought Tom Green had disappeared off the face of the earth, fear not (or, alternately, quit celebrating): he's back on the stand-up beat and has a new movie, "Prankstar," that's sitting there until he figures out what to do with it. This is terrific news, because — seriously — his 2001 film "Freddy Got Fingered" is one of the most underrated comedies of the decade.
Aside from its reputation as one of the worst-reviewed films in recent memory — its Metacritic score is 13 and Green's loyal MTV audience was generally just as appalled once they hit the theater — "Freddy Got Fingered" has a small group of defenders (most notably the New York Times' A.O. Scott) who, according to Green, have steadily pushed DVD sales well into the black. He'd like to put out a director's cut, inflating the running time from 85 minutes to around 110. I suspect that would dilute the impact — one of the great things about "Freddy" is its compression — but pleased on behalf of the film.
"Fingered" would probbly do at least a little better if it were released today. For one thing, the animated show Green's character/stand-in Gord creates ("Zebras In America") is full of the kind of deliberately abrasive non sequiturs and were-they-stoned? moments that typify the "Adult Swim" line-up; the idea of someone having a show like that now isn't far-fetched at all.
The bigger thing is that "Freddy" — widely misevaluated by lazy critics as a shoddy attempt to shock — is completely uninterested in what you're comfortable with. It's confrontational in a very real, near-avant-garde way that does everything but slice up a few eyeballs. And then it suckers you into thinking the movie has no emotional content before turning into a nakedly sincere story about Tom Green wishing his dad were nicer and more understand about his ambitions and work, complete with a last-act reconciliation and Green implicitly apologizing for all the horrible stuff he dragged his parents through on the show.
In its mixture of gross-outs and something approaching moral seriousness, then, Green approaches the second-wind directorial career of Bobcat Goldthwait, whose inelegant but probing "Sleeping Dogs Lie" and "World's Greatest Dad" use seemingly juvenile premises to play around with deadly serious ethical problems. Hearteningly, critics mostly take him seriously.
Green didn't quite get to the same level of thoughtfulness (or respect, obviously), but he does have goals besides a momentary startled laugh, and they're obvious to anyone paying attention: "Freddy Got Fingered" wakes you up, makes you laugh and has a lot to say about fathers and sons to boot. If this attempt at restarting his career goes through, I hope more people will take the plunge.
[Photos: "Freddy Got Fingered," 20th Century Fox, 2001; "Aqua Teen Hunger Force," Cartoon Network, 2000-present]