Seven hit foreign films that aren't getting nominated for an Oscar.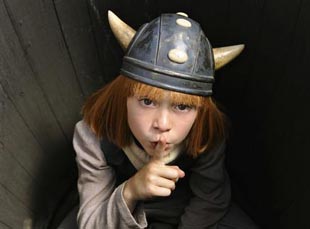 Posted by Vadim Rizov on
In a few hours, the final five nominations for Best Foreign Film are going to be announced. But none of those five — or the nine shortlisted — were submitted on the basis of great success in their home country.
That's no secret: if box office determined distribution of foreign films in America, we'd all be watching, say, "Vicky the Viking," a German family comedy about the adorable lil'est Viking and his pals instead of "The White Ribbon." (Don't tempt me, really.)
Nonethless, it bears examining seven movies that conquered their domestic box-offices without making a dent here, with the Academy or otherwise.
"Se Eu Fosse Você 2," Brazil
This translates as "If I Were You 2," a sequel to a hit comedy about a squabbling husband and wife who switch bodies. It was subsequently outgrossed by "Avatar" and the inevitable "Ice Age 3," which meant Fox — also a distributor on this — had a very good year. In this movie, the husband and wife switch bodies again, which apparently leads to hilarious jokes about the guy having to sit down when he goes to the bathroom. Say what you want about mainstream American film comedy: at least our big hits no longer milk the old straight-man-acting-flamboyantly-gay gag.
"Rööperi," Finland
Coming in behind "Avatar," "Ice Age 3" and "Harry Potter and the Half Blood Prince," "Rööperi" is described by one IMDB user as the Finnish equivalent of "Goodfellas" (back of the line, behind all the other contenders), which kind of makes me want to see it. You have to wonder what nearly two-and-half-hours of garish evocations of the '60s Finnish hard liquor market is like, domestic soundtrack and all. As IMDB user "aku_rouhiainen" notes, "the Movie started to feel boring after 30-60 minutes, but it was still 'watchable' and the actors didn't grown up while the movie ANY!!! They looked just same all the time." Sold.
"Made in Hungária," Hungary
Here, we know Hungary best as the home of Béla Tarr and similarly severe auteurs. This, of course, is not what the Hungarian audience watches. The highest-grossing Hungarian film of 2009 was this peppy musical about a Hungarian youth returning from abroad with his Jerry Lee Lewis records, who promptly introduces the kids to duck's-ass haircuts vaguely anti-Communist sentiments. I have no idea why this hasn't been released here: the older component Landmark Theatres crowd would probably love to see early '60s rock, youth and innocence in a foreign tongue.
"You Changed My Life," Philippines
"You Changed My Life" is the sequel to "A Very Special Love" by the prolific Cathy Garcia-Molina, who's apparently conquered the Filipino rom-com market with a slew of indelibly titled movies: "Bcuz of U," "Close To You," "You Are The One," "You Got Me!," "One More Chance," "My Only U." The trailer before is for "A Very Special Love," which looks incredibly generic but is kind of funny. I'm mostly including this because in reading up on the film, I discovered the useful Filipino term "kilig," a neat, two-syllable encapsulation of all that giddy, butterflies-in-stomach mythology romcoms sweat so much to produce naturally. I'm glad I learned it and would like to invite you to introduce it into our vernacular.
"The Inhabited Island," Russia
The Strugatsky brothers are arguably Russia's best-known science-fiction writers: Tarkosvky filmed one of their novels as "Stalker," Alexander Sokurov made a typically impenetrable movie "inspired" by them, and James Cameron was accused of plagiarizing them for Avatar. An adaptation of their "The Inhabited Island" was the most expensive Russian production yet at $36.6 but failed to make back the budget; still, it made more money than any Russian film last year (though Part II only grossed less than a third of the first installment, so audiences apparently caught on). The plot is some kind of gibberish about a heroic 20something on an alien planet leading a revolt against tyrants; summary is here.
"Bangkok Traffic Love Story," Thailand
According to its valiant struggle of a Wikipedia summary, "Bangkok Traffic Love Story" is apparently less schizoid than the trailer below, which veers from frantic farce about a woman drinking too much to recapping pretty much all the film save the final reconciliation. Thailand's film industry is in good shape at the domestic box office; "Bangkok" came in 4th for the year and decimated "This Is It" during an opening-weekend stand-off. I'm intrigued by Wikipedia's suggestion it's the first Thai movie to really cater to the young single female urbanite crowd so frequently targeted here; apparently it struck quite a nerve.
"Recep Ivedik 2," Turkey
According to IMDB user "skipper65," the character Recep Ivedik "represents a typical opportunist, selfish, arrogant, insensitive, annoying urban character. In an ordinary day in Istanbul you see such characters in the form of a lady driving a jeep while using her cell phone and violating traffic rules and putting others in danger." The movie made a great deal of money, but 2/3 of the IMDb comments are virulently negative: "sinekritik" says "early all jokes are based on swearing and the movie has no storyline." Based on the trailer, this really is some "Borat" type territory, only a lot, lot ruder: in the first 30 seconds, Recep pants a guy on the street, beats a grocery store manager with leeks and throws a pizza in someone's face. It looks at least as good as "Step Brothers."
[Photos: "Wickie und die starken Männer," Constantin Film Verleih, 2009; "Se Eu Fosse Você 2," Fox Filmes do Brasil, 2009; "Rööperi," Nordisk Film Theatrical Distribution, 2009; "Made in Hungária," Budapest Film, 2009; "You Changed My Life," Star Cinema Productions, 2009; "The Inhabited Island," Art Pictures Studio/Non-Stop Productions/STS, 2009; "Bangkok Traffic Love Story," GTH, 2009; "Recep Ivedik 2," Özen Film, 2009.]