Exclusive! Video premiere "Fist of a Flower," Gemma Ray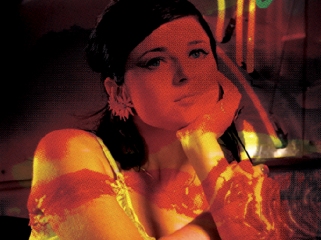 Posted by Brandon Kim on
The UK darling Gemma Ray, beloved by the likes of Jimmy Page and Nick Cave has been impressing people with the sweet sounds of her Harmony Rocket (her guitar of choice) since her US debut Lights Out Zoltar! came out in Fall.
[Gemma Ray. Photo by Simon Webb]
We've got a new video for her song "Fist of a Flower" which is actually composed of over 15,000 still photos shot in and around Lea Valley Ice Skating Rink, East London. Director Miranda Bowen describes the David Lynch-vibed result as depicting a "character who is lost in a dissolute twilight world …reflective of the beautifully eerie mood of Gemma's music."
That ending reminds me of an experience I had once when I attempted to have a conversation with a woman who'd, unbeknownst to me, walked off the grounds of an insane asylum. It scarred me for life I think. I don't go down that street anymore.
For miss Ray, "The most difficult part was walking backwards in super-slow motion whilst wearing original 10inch Biba platforms in a thin chiffon dress and bare legs!" she said, adding, "I still enjoyed the challenge in a slightly warped way."
"Miranda interpreted my song in a way that made it feel fresh all over again and it was so exciting being able to work with a director whose vision created a world that fit my songs so perfectly." They both share an affinity for David Lynch and black humor too – cheers to them and that!
Check out the Vanity Fair piece on her.
Label: Bronzerat