In defense of long end credits.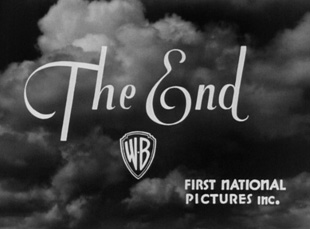 Posted by Vadim Rizov on
The San Francisco Chronicle's Mick LaSalle has a problem: he thinks end credits are boring, and that we should return to the pre-'60s era, when "most movies ended symphonically, with a big finish and the words, 'The End' flashed on the screen." From overwhelming emotion to a disorienting return to the real world: that's what we need. Now, he says, we're all just sitting in the dark, processing what it is we've just seen before getting on with it. Instead, movies would benefit if the lights came up right away, throwing us "bodily onto the hard sidewalk of real life."
Well, these days most people are watching movies at home under circumstances that probably don't equal an undistracted, purist experience. But I have to wonder about this claim in general. I go to repertory screenings of a lot of those older movies LaSalle praises for, um, treating our consciousness like a ticked-off bouncer. And this is generally not what happens in my experience — the lights coming up do not reveal a hall of the dazed and disoriented, shaken by their interaction with a powerful work of art.
If anything, it's the opposite; people start getting up and going as soon as they think the drama is over. Because of the conventions of older movies, with resolutions mostly telegraphed and within a minute or two of the actual end, they actually start moseying out as soon as it seems the last twist has been resolved. (First prize goes to the guy I once saw walking out on "Hobson's Choice" after the end of the second act, clearly thinking the whole thing was just about over, and thereby missing the titular choice.) It's not like the modern end credits shuffle destroys the impact for most people: better a quiet walk outwards than everyone rushing for the door at once. And that instant light can be harsher than needed, honestly.
More to the point, I think LaSalle's describing something that wasn't ever true. The days of the movies (like "Casablanca") LaSalle gloms onto were also the days of the in-house theatrical double-feature, interspersed with trailers, newsreels, cartoons and so on. People would come in at any point — including the middle of a movie — and leave once everything circled back to that moment. Linearity's overrated — a professor of mine once suggested that the Hollywood movies acclaimed for their strong narratives were more important to viewers as atmospheric experiences, or as decor porn in a time of deprivation.
Personally, I'm cool with end credits, the endlessness of which is up there with such stand-up staples as incompetent drive-thru employees and bad phone customer service for being picked to death. The best movies are ones you have to think and/or feel your way through (ideally both) in an interactive experience; that transition time lets you clean yourself up as need be and regroup for what's ahead. Then again, I feel no need to wander around like a zombie after a movie to gauge how affected I am. The movie does what it does; shock treatment shouldn't mean anything.
[Photos: "Bullets or Ballots," Warner Bros., 1936; "Casablanca," Warner Bros., 1942]