A good editor can be a bad sign.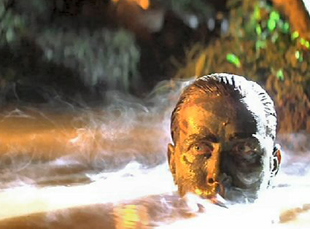 Posted by Vadim Rizov on
This Friday sees the release of the by most counts wretched rebooted "The Wolfman," whose long and troubled production is no secret. The man who walked the movie through its final cut? Walter Murch, a golden god among editors for his pioneering work with sound design on "THX 1138," "American Graffiti," sound and editing on "Apocalypse Now," and so on.
Yet Murch — who I presume commands a high fee for his participation on projects that, unlike "Tetro" and "Youth Without Youth," are pretty useless — has some other notable flops he's worked on: 1994's Julia Roberts fiasco "I Love Trouble," 1995's "First Knight."
Generally speaking, the presence of a legendary editor on an unlikely project spells trouble, a mess that called for the finest hands possible to attempt salvage it. Take Anne V. Coates, whose place in film history would be assured just for "Lawrence of Arabia"'s match cut. (For good measure, her other credits include "The Elephant Man" and "Out Of Sight.") Her latest film? "Extraordinary Measures," the forgettable Brendan Fraser-Harrison Ford movie that's already come and gone.
More examples: once, Dede Allen edited "The Hustler," "Bonnie and Clyde," "Serpico," "Dog Day Afternoon," "Slap Shot" and (just for good measure) "The Breakfast Club." In the past decade, she's been lured out of inactivity just a few times: for "John Q," the failed Robin Williams sci-fi drama "The Final Cut" and a Julia Roberts movie so bad ("Fireflies in the Garden") it never even saw domestic release.
Or Jerry Greenberg, Murch's colleague on "Apocalypse Now," the guy behind "The French Connection"'s legendary car chase and a De Palma veteran ("Scarface," "The Untouchables," "Body Double") whose credits over the last decade include "Inspector Gadget," "Bringing Down The House," and "Get Carter" with Sylvester Stallone.
Once you become awesome enough, it seems, you no longer edit good movies. You'll be paid well to try to salvage the unsalvagable in post. And that's the only good thing about terrible yet unamusing movies: they give editing legends the paychecks they deserve. And warn you to stay far, far away.
[Photos: "Apocalypse Now," Paramount, 1979; "Inspector Gadget," Disney, 1999]