We liked you better when you were a dissident.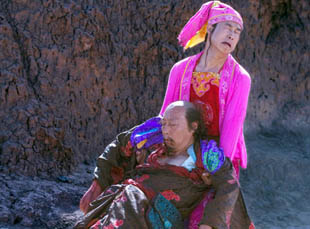 Posted by Vadim Rizov on
Once upon a time, it was much simpler to pick out the important world auteurs. For example, it was a good sign if someone was a dissident. Pretty much all of the post-'30s Soviet directors worth a damn — Andrei Tarkovsky, Sergei Parajanov, Kira Muratova — got banned, and the correlative relationship between the outlaw and the great artist made things easier to parse.
These days it's trickier. Abbas Kiarostami, one of the undisputed masters of Iranian cinema, seemed to issue nothing less than a direct challenge to Iran's rulers, complete with a woman with her head-scarf off, in 2002's "Ten." But lately, he's emerged as a bit of a toady, lambasting countrymen Bahman Ghobadi and Ja'far Panahi for the social critiques embedded in their films.
Jia Zhangke, once an underground filmmaker, is now a director whose movies at least one person I know refuses to watch because of how he responded to the Uighur problem. Jia, a Sixth Generation filmmaker parallel to the Fifth Generation's Zhang Yimou, is, just like Zhang, transitioning from a righteous aesthetic/political force to a filmmaker potentially compromised on both fronts.
Even five years ago, Zhang's trajectory from frequently banned filmmaker to state artist still gave us some great art. "Hero" is arguably propaganda for "strong leadership," but it's also propaganda that translates gorgeously (and, without context, seemingly apolitically) from China to the rest of the world. Now his "Blood Simple" remake "A Woman, A Gun and a Noodle Shop" is being condemned for representing (as Marie-Pierre Duhamel puts it) "more the goals of the official industry than the more creative trends of Chinese cinema."
Kiarostami, Zhang and Jia's active cozying up to the regimes in question unnerves me, but not half as much as the efforts to castigate them. For one thing, we're all operating through half-verifiable information; for another, we all have our political prejudices. Mine are as predictably lefty as they come. This makes me distrust everyone. History's treatment of filmmakers who settled on the wrong side of the ideological line has generally been kind if they came through aesthetically — we're still studying "Triumph of the Will" and D.W. Griffith.
But in the past, most admired directors also happened to be on the "right" side of things politically — in many cases, they were entangled in situations that earned them the equal admiration of the left and right. Such is indeed the case of Kiarostami, Zhang and Jia: once dissidents who've cooled down and continued working at the same level of aesthetic rareification (or, in Zhang's case, literally using the state's resources towards an overwhelming goal, culminating in the 2008 Beijing Olympics' opening ceremony). Now Kiarostami is condemning his successors for no obvious reason, Jia's playing ball with the state, and Zhang appears to have lost interest in having all of his movies banned (and the reviews for "A Woman" remake are wretched to boot). And what of someone like Alexei Balabanov, the Russian director whose past work has included some undeniable racism, yet whose formal skill is seductive to anyone prone to being sucked in by that kind of thing?
It was once an axiom that fascism can't produce great work. Well, maybe not, but repressive regimes can produce great art (Zhang's "House of Flying Daggers" is major to me, though some prefer "Hero"; Balabanov's "Cargo 200" is brilliant, but also xenophobically nationalist and unthinking in a way suited to its era) in a way that was less clear in the 20th century. So now what? How we can judge and (possibly) condemn filmmakers whose accommodations to pragmatism we can't possibly understand is becoming a harder question by the day.
[Photos: "A Woman, A Gun And A Noodle Shop," Sony Pictures Classics, 2010; "Ten," Zeitgeist Films, 2002]