Actor vs. actor: a debate proposal.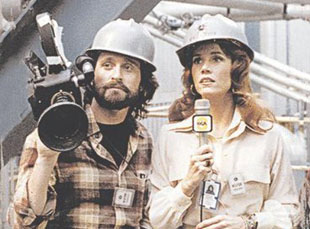 Posted by Vadim Rizov on
The Huffington Post, god bless 'em, has long made itself an easy target for irate conservatives by providing a platform for every celebrity (with or without a ghostwriter, we'll never know) to mouth off about the causes near and dear to their heart.
This turgid manifesto-driven stuff is apparently a fantastic traffic driver, despite having nothing novel to offer up. But no one, it seems, has figured out that they can take it to the next level by staging actual debates between actors. Here's an example: Michael Douglas (not a HuffPo contributor) has recently announced that he's now a supporter of nuclear power.
This is some thirty years after Douglas produced and starred in "The China Syndrome," the single most effective anti-nuclear power movie ever made. Now, he's announced that having "dealt with the realities of global warming, and what the alternatives are… I do support nuclear power now. I wish there were other alternatives, but I don't think there are."
Michael Douglas, meet Alec Baldwin, who has some things to say about nuclear power and some very impressive name-dropping (opening words: "Sitting in Bill Richardson's office while he was Secretary of Energy under President Clinton…"). As far as they go, Douglas and Baldwin are two of the better informed politicized stars. I say we put them up on the stage of Radio City Music Hall and let them hash it out. Given how good celebrities are for HuffPo, there's clearly a demand to see them in any context — even expounding on policy things no one cares about otherwise.
But wait, you say: why keep all the debates strictly in the liberal camp? Can't we have a discussion along the full spectrum of American politics? Well, it'd certainly be trickier, but it can be done — the trick is to match the relative celebrity and dogmatism of the opposing forces equally. Jon Voight vs. Douglas, say, would be pretty much a fair fight. The opening round could be between some lower-tier types. How about the equally virulent Steven Weber for the left ("Be all the tea-bagging ass-hats fear, as they bathe themselves in the ghastly glow of Fox Noose") vs. Michael Moriarty ("Progressives are those pro-abortionists who wrap the veil of women's rights around legalized murder"). And watch the fur fly.
Hey, it's no worse than what's already on the internet, and it'd certainly be more fun to watch than read. They don't even have to write their own talking points! Let's take it to the streets, guys.
[Photos: "The China Syndrome," Columbia Pictures, 1979; Jon Voight as Howard Cosell in "Ali," Columbia Pictures, 2001]