Exclusive! Video premiere and interview with Dan Black.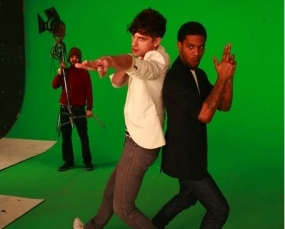 Posted by Brandon Kim on
Dan Black used to be in a band but decided to break out on his own to explore a one-man's-vision approach to seemingly incongruous, as he calls them, "Frankenstein mash ups." One of his first, "HYPNTZ" which combined the lyrics from Notorious BIG's "Hypnotize" with a sample from the score to the 1984 film "Starman," was a wild internet success. But the night before he was to shoot the video for it he got word from his newly signed record company there was a "veto" on the rights to the lyrics and it was suddenly all canned.
Elements of it would live again though in the song "Symphonies," a blinding cut of pop brilliance. In the song's latest incarnation Black teams up with Kid Cudi and in the video the two tap deep into a shared cultural experience, an ethereal pop force that surrounds and binds us all. I talked to Black in Paris over the phone and we got down on Jeff Bridges, wartime British films, and how dope this video is.
Apart from the alluring quality of your song craft in general, I like talking about being "broke" and "blown away," so you really got me. This song's a triumph, and I've been jaded about modern pop for a long time. Was that Notorious BIG cover "HYPNTZ" like a blueprint for this?
Yeah exactly it's a long journey to this song…. [After] we couldn't use the lyrics to "Hypnotize," the record company went a bit loopy and they had to stop it going to radio, and stop it being manufactured – it was properly, a nightmare. And they were going to give up, when I said, no, no, no, I'll just write my own lyrics to this! You know, the music's fine, the music I made really. We have the sample clearances of the bits we need, so I wrote "Symphonies."
Chic and Artistic directed the video, a team which I understand involves your wife, which is adorable.
Yes, she and another guy. Chic and Artistic, are the people I collaborate with on everything. They're really important and a key part of what I do.
The video is like a wet dream for film title sequence fetishists. How did the concept come about?
[laughs] Yeah well all the things we do, I try to carry through in the same way I work on my music. At the heart of it is a playful, experimental quality where we have fun and explore and do things that seem like stupid ideas maybe, but why not try? You're sort of hunting around for things that fire up your brain and make you go, "wow this is ridiculous, this is brilliant!" That kind of feeling is what you're chasing. So a lot of it's just us having someone throw out ideas. I remember them saying, "Let's do something where you're walking through lots of opening titles for films." Oh yeah, that's a brilliant idea. Then we got into what films, and what would happen in which titles.
I love the nods, the "Bond" sequence, genius, "Blade Runner." Do you have a favorite?
Well that's a good question actually, never thought about that. I like a lot of it. I like the continual dissonance. I like the wholeness, the weight of it. It just never seems to stop. The big hit that I get from it is it's just unrelentingly new.
Now this genius sample, how did you come upon the idea to use the "Starman" score? It's one of my favorites.
Oh yeah me too! I saw it as a kid. I'd get the VHS videos out and I'd watch that film like three or four times. You know you'd only have it for a night from the video store. I don't think I really had much of a quality control when I was a small kid and I used to just watch films repeatedly. [laughs] But I remember there's a scene where the spaceship comes down and he's beamed up. I loved watching that scene, and as I got older it dawned on me the thing I most liked was probably the music. So I hunted it out, just to have. And then, you know, I was looking through huge piles of CD's for ideas of things to try out for songs and oh yeah [there it was]. But it's not the original, the original was a kind of cold synth, but I used this Prague orchestra version playing these science fiction film themes.
Ah yes it does sound warmer.
Yeah it's an orchestral version of the original, so that's the thing that I took and then chopped up.
How great is Jeff Bridges?
Yeah exactly. Even then he was a genius.
Truly. What other movies did you grow up loving as a kid in your little village outside London?
Well I was a kid in the eighties so obvious things like John Hughes films, I massively loved them. And arguably the thing that has ruined modern cinema, the blockbuster, so you know things like "Back to the Future." And Jon Cusack films of the 80's.
What film would you liked to have done the soundtrack or score for?
Well that's a hard one because films that I'm particularly aware of the soundtrack of – have got amazing soundtracks, so it'd be stupid of me to try and better them…. It's amazing I've done a few bits and pieces for adverts and it's fascinating the whole way of it, the language and the relationship between music and picture. How you can create something beyond the sum of their parts. "Blade Runner." Vangelis' soundtrack for that is kind of the perfect soundtrack.
What film would you like to live inside of, if you could?
Probably in a film set in the past or set in a world that doesn't exist… and then I'm thinking "Shortcuts" but that would be depressing. Something with loads of different themes in it. [laughs] A value for my money I think is what I'm trying for. Oh I know, I really love these films by Powell and Pressburger – just like really English, magical. They were made during and after the war. The two that really stick out are "A Matter of Life and Death" and "The Life and Death of Colonel Blimp." They're these magical, weird, sort of dream like films. In "A Matter of Life and Death," David Niven is an English pilot in the Second World War, and his plane crashes but the angel that's sent to get him and take him to Heaven is late. So he spends a bit more time on Earth accidentally, and falls in love someone. He then argues, well it's your fault, you missed me so I should be allowed to stay. So there's these scenes when he falls asleep he's in this court in Heaven, it's like 1943 or so and it's in color but it's that kind of weird "Wizard of Oz" Technicolor. And it's really amazing, beautiful and sad and happy all at the same time. I'd like to live in that.