Seven crossover film composers.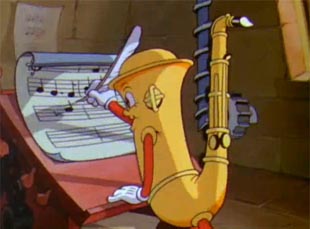 Posted by Vadim Rizov on
There's a dwindling number of composers doing original scores for movies that aren't either music-free or solely composed of pre-existing tracks. New entrants in the field are often indie-rock types looking for extra cash and/or friends of those involved. Owen Pallett (previously Final Fantasy) worked with the Arcade Fire's Win Butler and Régine Chassagne to create a creditable Bernard Herrmann pastiche for "The Box." Grizzly Bear scored Sundance darling "Blue Valentine." LCD Soundsystem's James Murphy is handing the score for Noah Baumbach's upcoming "Greenberg." The indie crossover is inevitable — it's a natural extension of Hollywood's established trend of drafting band members to compose. Here's seven, with resumes and career oddity highlights:
Danny Elfman
The Playlist is skeptical about the announcement that Danny Elfman will score Michel Gondry's "The Green Hornet," grousing that "It's probably not an overstatement to say he's perhaps the most overrated composer working alive." And it's true that after a fast start, Elfman's turned shockingly bland, an anonymous action guy. Once, he sounded like the child of Prokofiev and Carl Stalling; now, he's the dutiful, interchangeable guy behind "Spider-Man," "The Kingdom," "Milk," and the dire Philip Glass imitations of "Standard Operating Procedure." Considering his background — frontman of the enjoyably mock-ghoulish Oingo Boingo — that's especially weird. If I were feeling mean-spirited, I'd suggest his increasing blandness coincides with that of constant collaborator Tim Burton, though it's probably just a coincidence. Once a Gondry-Elfman collaboration would've seemed an even match; now, not so much.
Career highlight: Aside from branding himself into a generation of TV viewers with the theme for "The Simpsons"? Perhaps the music video for "Dead Man's Party," which appeared on the soundtrack of Rodney Dangerfield vehicle "Back To School." Just as Oingo Boingo start to seem menacing (even when they're doing synchronized dance moves), the video cuts to random footage from the movie. There is nothing less threatening than Rodney Dangerfield.
Mark Mothersbaugh
Because Mothersbaugh once said "Rebellion is obsolete — change things from the inside working out" — and also because Devo were an uber-theoretical type band with an interest in structuralism — it's hard to know how to respond to Mothersbaugh scoring, say, "Herbie Fully Loaded" or "It's Pat: The Movie." But at the very least, Mothersbaugh played Vince Guaraldi to Wes Anderson's Charles Schulz, a fruitful collaboration.
Career Highlight: Like Elfman, Mothersbaugh's maybe best remembered for a TV theme (in his case, "Rugrats"). But what of Devo's score for 1988's "Slaughterhouse Rock"? Featuring and starring Toni Basil.
Stewart Copeland
I've always associated Copeland (drummer for The Police) with the most '80s of '80s productions, especially the drum pads and keyboards of "Wall Street," which are at once supremely appropriate for a movie that's more iconic than good and indicative of Copeland's weaknesses. As of press time, though, Copeland's revived his career by getting involved with the frankly unbelievable "Ben Hur Live" show: done entirely in Latin and Aramaic, with a live chariot race and Copeland wandering through the thing, narrating against his own music.
Career Highlight: Clearly, "Ben Hur Live." Here's the stupefyingly dull footage of the live chariot race, though the unembeddable video at the London Times is even more oddly fascinating:
Tangerine Dream
Once widely recognized as Krautrock pioneers, Tangerine Dream eventually became synonymous with any kind of instantly out-of-date '80s soundtrack (they've done some 60 scores). Their influence keeps sneaking up in strange ways: Kanye West's "808s and Heartbreak" owed them in a big way. And being dated isn't all bad: Tangerine Dream were very good at using those distinctively '80s sounds.
Career highlight: The 1984 Stephen King adaptation "Firestarter" isn't particularly beloved, but their music for it has always had a kind of creepy pull for me. If you watch it as a silent movie (sans dialogue), it actually works pretty well:
Ryuichi Sakamoto
Founding member of pioneering electronic-pop group Yellow Magic Orchestra, the shape-shifting Sakamoto's hard to pin down: his work for "Merry Christmas Mr. Lawrence" and "The Last Emperor" has held up surprisingly well given his synth tools. Sakamoto's composed for films sporadically over the years: his score for Brian de Palma's "Snake Eyes" was haunting repurposed as a sample for Doves' "The Storm", but his follow-up collaboration on the otherwise great "Femme Fatale" was a distractingly close replica of "Bolero." But he's proven perfectly adept as an organic, non-electronic composer.
Career highlight: YMO's awkward appearance on "Soul Train," opposite a befuddled Don Cornelius, who mocks his inability to pronounce Japanese names and doesn't know who Kraftwerk are. The band's cover of "Tighten Up" is fairly indelible as well.
Mark Knopfler
The person on this list who least clearly needed the money, Dire Straits' Knopfler has sold over 120 million records worldwide, so clearly got into score composition for his own reasons. His choices are eccentric and far-reaching: the warm-hearted Bill Forsyth movies "Comfort and Joy" and "Local Hero," sure, but also the despairing pre-"Requiem for a Dream" Hubert Selby Jr. adaptation "Last Exit To Brooklyn." Knopfler's loyalties still remain true to his Scottish roots, at least as far as can be judged by his last feature score being for the otherwise unnoted Scottish soccer drama "A Shot at Glory."
Career highlight: The "Local Hero" soundtrack, which apparently still rouses the audience live and in concert. Go figure.
Randy Newman
The once bitingly satirical '70s singer-songwriter was given the chance to indulge his interest in American musical idioms/song-writing forms when he began his film scoring career. Eventually he lost the satire altogether — there's certainly nothing less ironic than the Copeland-biting theme for "The Natural." In recent years he's focused on increasingly saccharine Pixar scores and songs (not least in his inexplicably Oscar-nominated song for outside venture "Meet The Parents"). It's a logical trajectory given his interests, but not all that interesting relative to what he used to be capable of.
Career highlight: Newman's first film work was for Norman Lear's "Cold Turkey," a fascinatingly dated-sounding movie in which an entire town kicks smoking for a month to get $25 million (starring Dick Van Dyke as a community minister). The mournful opening song "He Gives Us All His Love" is a perfect fit for Newman's sincere anger. Here's the trailer:
[Photos: "Music Land," Disney, 1935; Elfman during "The Nightmare Before Christmas," Buena Vista, 1993; Mothersbaugh, by Mr. Bonzai, 2006; Copeland during 2006 Gizmo tour, courtesy of stewartcopeland.net; Sakamoto in Brazil, courtesy of ryuichi-sakamoto.com; Knopfler courtesy of MarkKnopfler.com; Newman in 2005, by Doug Mazell]