Why film festivals should be more like Coachella.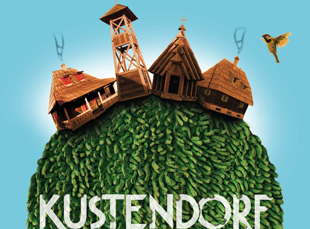 Posted by Vadim Rizov on
This year saw the third iteration of the Küstendorf Film Festival. Küstendorf the town and Küstendorf the festival were founded by oft-controversial filmmaker Emir Kusturica, who came to the area while filming "Life Is A Miracle." Then it was just a mountain in Serbia. Talking to Geoffrey Macnab at Screen International, Kusturica describes how he took an uninhabited hill and somehow singlehandedly jump-started what he describes as "a medieval age economy," complete with produce and 50 cows.
Kusturica notes that — despite being a four-hour drive from Belgrade — the town gets 250,000 visitors a year and the festival is prospering. "When I started building, everybody told me I was fucking stupid," he said. "I don't know why but people come here like crazy." And the festival works: this year's retrospective (charmingly entitled the "Retrospective of Greatness") featured none other than Johnny Depp, who worked with Kusturica way back on 1993's "Arizona Dream." There's music and deals: Kusturica speaks of not wanting a commercialized atmosphere, but at the same time he brought together a Japanese student director and a German producer.
Let's think about Sundance for a minute, with all its dispatches about more-than-usually-cataclysmic snowfall, bad wifi and packed screenings. Or the expense of going to Cannes, assuming you can get accredited. And so on. It's a given that our biggest film festivals are primarily for industry and press only. And so, perhaps not so oddly, going to film festivals has never captured the imaginations of most Americans the way that that music fests do.
Kusturica's made a good connection for his festival between pain-in-the-ass isolated locale and enticingly friendly feel. Sometimes it seems like most people who go to music festivals positively relish the challenge of traveling to Coachella or Burning Man or whatever; it's like everyone wants Woodstock all over. And people who don't necessarily care all that much about movies per se (certainly not to the extent of traveling for them) tend to love "events" like camping, music, nights, most likely illicit activities.
That helps gestate an atmosphere of enthusiasm and engagement. (Tilda Swinton got it too: she brought cupcakes to her one-off festival in Nairn. Do you know how far I'd travel to try a cupcake baked by Tilda Swinton?)
And yes, there are already far, far too many festivals in the U.S., but many of them are mediocre, stuck in museums and weird venues that try to layer some excitement over a basically municipal function that's only for die-hard local cinephiles who know how to parse the schedule. Let's make more room for novelty to engage civilians! It's always nice to have a chance to engage non-film-obsessive people feeling mellow enough to watch something non-commercial. It probably wouldn't be as much fun as All Tomorrow's Parties, but we can try.
[Photos: Küstendorf 2010 Film Festival poster; "Arizona Dream," Warner Bros., 1993]