Christopher Nolan is the new James Cameron.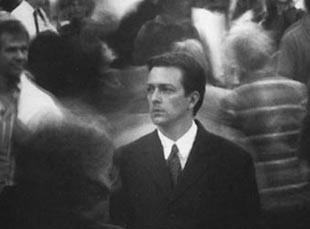 Posted by Vadim Rizov on
11 years ago, Glenn Kenny (then of Premiere) was attending Sun-/Slamdance and shared a bus ride with a dejected-looking British pair. "The couple were feeling a little down," he wrote recently, "as they had a film… in its way as formally daring as 'Blair Witch' was, but it didn't matter, as 'Blair Witch' was garnering not just all the money but all the critical hype." The movie was "Following," and the couple were Christopher Nolan and his wife Emma Thomas.
How far we've come. Now Christopher Nolan sits poised on top of the world. Following the success of "Batman Begins" and the billion-plus worldwide gross of "The Dark Knight," Nolan has somehow gotten Warner Bros. to give him $200 million for "Inception," a movie that star Leonardo DiCaprio has described as "Chris delving into dream psychoanalysis and, at the same time, making a high-octane, surreal film that came from his mind. He wrote the entire thing, and it all made sense to him. It didn't make sense to many of us when we were doing it."
These are not things that happen ordinarily. No matter how successful you are, you're not supposed to get $200 million to make something that'll mightily screw with people. (The last time I heard a description remotely like that, we got "Southland Tales," and look how that turned out.) But, per Nikki Finke and Mike Fleming, "Nolan is considered something of a god at Warner Bros." And now that Nolan has an idea for a third Batman film and has agreed to "godfather" a "Superman" reboot (whatever that means), that's not going to change anytime soon.
That places Nolan in very rarefied company indeed; effectively, it means he gets to fight it out with James Cameron for king of the world status, given carte blanche to write and direct his own distinctive blockbusters. At this moment, he might be even higher: Cameron had to tussle with Fox in order to sneak his "Ferngully" aspirations into "Avatar," straightforward or not. In contrast, Warner Bros. snapped up "Inception" just to make sure no one else would get it, not stopping to worry about whether or not it would make sense.
The funny thing is that when it comes to name recognition, I don't get the sense that Nolan has the same brand-value as Cameron. People loved "The Dark Knight" (and many of them got a kick out of "Batman Begins"), but "The Prestige" was a sleeper hit at best. Cameron's name and technology were pretty much all "Avatar" had to work with, and it worked well. Maybe Cameron's much-derided tendency to be self-aggrandizing in public reminds people who he is — Nolan remains safely in the background, not so interested in building a public image for himself.
Nonetheless, Nolan's the new face of the Blockbuster Future, one short decade after quietly emerging to no fanfare in particular. And I don't think he's going anywhere: he has more ideas (and better ones, frankly) than Cameron, plus the budget to disguise their knottiness. "Inception" is the big gamble, with deliberately confounding trailers that invite you to place your trust solely in the hands of the director of "The Dark Knight." And if it fails? Well, Cameron bounced back from "The Abyss" just fine. Game on.
[Photos: "Following," 1998, ColumbiaTristar Home Entertainment; "Inception," Warner Bros, 2010]