Chris Morris and the Roar of "Four Lions"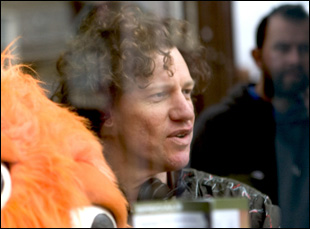 Posted by Bilge Ebiri on
Perhaps one of the most unusual sights of the Sundance Film Festival was seeing British comedy legend Chris Morris walking around and doing Q&As after screenings of his "jihadi comedy" "Four Lions." Infamous in Britain for his shows "The Day Today" (which helped launch the career of Steve Coogan) and "Brass Eye," Morris is generally regarded as something of a recluse, and rarely gives interviews.
Not that he's shy. Dear god, no. To say that Morris's work has flirted with controversy is a bit of an understatement: A "Brass Eye" TV special he once did on the pedophilia scare reportedly broke records for complaints it generated. And back in early 2002, he penned, with fellow Brit satirist and "In the Loop" director Armando Iannucci, "Six Months that Changed a Year," an "absolute atrocity special" satirizing the response to 9/11.
Telling the story of a group of hapless terrorists plotting a coordinated suicide bombing, Morris's feature directorial debut "Four Lions" takes his work in a decidedly new direction. The kind of film that can use someone blowing themselves to bits as a punchline for a gag, "Lions'" tone is darkly ironic rather than confrontational. It's also the product of years of scrupulous research, which resulted in a surprising degree of cooperation from the British Muslim community. During his visit to Sundance, I spoke to Morris about bending genres, preferring Howard Stern to Jon Stewart, and the psyche of suicide bombers.
This film is a very strange hybrid — it's got a lot of broad comedy, but it's also very serious and tragic in some regards.
I think the appropriate word for it is "tragicomedy." If you just made a film that said, "Guys making these kinds of plots are ridiculous," you'd be lying. After the research I did, which included going to court cases and talking to loads of people, I wanted to convey the point that a terrorist could also be a humorously flawed person. But the companion thought to that is, of course, they're also people, which in itself is subversive to the notion of what a terrorist is. A lot of films I like bend genres as well. "Dr. Strangelove" is really a half hour thriller stretched out to give you enough time to include lots of comic routines. If you look at the film, the seriousness of the mechanics of what's going on — the assault on the airbase, the detail inside the airplane — that's definitely transgenre. Those could be outtakes from a serious war film. And I think comedy can be left frivolously flapping about on the high tide end if it doesn't dig in somewhere.
In some ways, this is a much darker film than "In the Loop," which, despite being about the run-up to a war, makes it quite easy to sit back and watch and enjoy without feeling at all uncomfortable.
I absolutely adore "In the Loop" — I laughed from beginning to end — but it's affirmative, basically. It's a universal rallying cry to say, "Fuck politicians!" and "Aren't they a bunch of conniving gits?" It's never going to rip the carpet off from under your feet. There's nothing wrong with that, of course, 'cause I'm fairly intolerant of stuff that calls itself comedy. How rare is it to laugh at all at a film that calls itself a comedy, let alone to laugh all the way through?
Some would say that satire is a dead art nowadays.
There's satire out there. "South Park" is satirical. "Team America" is pretty satirical of genre. But satire in itself, as a raw element, can be pretty dull. "Dr. Strangelove" could be dull without some sparked up performances and its beautiful tone. I actually do think satire can get formulaic: "It's a satire so I don't really have to have any jokes." There's a certain Route 1 satire shape you can fall into, and I'm really concerned about that, actually. It's a formula that is given too much license.
For example, I prefer Howard Stern to Jon Stewart. There's something innately, intuitively subversive about his take on things. Really, really funny, without rules. You wouldn't call it satire — I'd say it's better than satire. And I often think of films as comedies when they're not comedies. "Festen (The Celebration)," I thought, was very funny. It had much more value, because it kicked hard. Whereas something that comes along and says, "Hi, I'm a comedy," like "Tropic Thunder," makes me want to rip up the whole cinema — just a godawful waste of money and time.
Tell me about the "fatwa-proof research" that you did for "Four Lions."
That's an unfortunate non-quote that's being spread around. It's attributed to my producer, but I'm pretty sure it's a journalistic product. I did do a lot of research. I wanted to make sure the scenarios in the film came from a real place. I met lots of Muslims who had nothing to do with anything radical whatsoever, which gave me a fair sense of how the landscape lay in Britain, and all the differences between the different village communities that ended up in different mill towns. That puts into sharp relief what happens in these tiny radical pockets. Making this film [had] nothing to do with attacking the Koran or casting aspersions about the Prophet or anything like that. 99.99% of the people I met shared those precious things but weren't remotely interested in blowing up anyone.
I was impressed that the film also didn't offer up a list of grievances — some obligatory, politically correct scene where we see all the horrible things that the West has done in Muslim countries, or something like that.
There are works of fiction which seek to explain jihadi terrorists as the militant wing of Amnesty International. I don't buy that. I wanted to avoid it for dramatic reasons as well. I didn't want some scene where Omar was confronted with terrible footage from an Afghani school that had been blown up by a drone or something. In a way, that would be too specific. We know that this sort of thing happens, of course. I thought with all the characters you could basically pick up why each of them would be involved with this and to categorize them. The "Black Widows" [Chechen female suicide bombers in Russia] were very different than some lads in Surrey planning to blow up a nightclub, for example. And it's not fair to pretend they're the same.