Centurion, trailers, behind the scenes.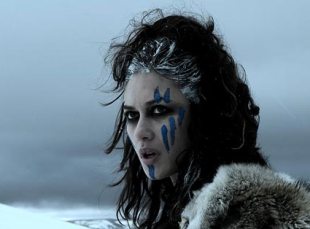 Posted by Brandon Kim on
May as well keep this week's trend up and get completely medieval on that ass with Neil Marshall's "Centurion." Don't mind the phrase, actually we're talking classical antiquity, and the difference is vast. This swords and sandals piece takes place in 117AD, well before Europe found Christ, when the Romans sought to tame the northern reaches of Britain.
[Olga Kurylenko, Pictish cover girl, in "Centurion"]
Having fought off Queen Boudicca and firmly established themselves in the south, the famed Ninth Legion went north to confront the wild Picts, modern day Scots. They were never heard from again, or so the legend goes (though historians now refute this, and date the annihilation of the ninth legion many years later). Enter Michael Fassbender ("Inglorious Basterds") and Dominic West (infamously McNulty of "The Wire") as Roman Legionnaires, both of whom appeared in the oiled up, man-sweatiest, gayest film ever made, "300." Olga Kurylenko who's had as much video game as film work, apparently plays a crazy Pict. I guess Ukrainians are the new Scots.
I have never seen a Neil Marshall picture before, but the titles alone give me pause, "Doomsday," "Dog Soldiers," etc. So does this trailer with so much amplified testosterone I had a hard time noticing the music at first. It's all right, serviceable at least. Composer Ilan Eshkeri's prior work remains questionable with titles like "Ninja Assassin" under his belt, but "Layer Cake" too.
What's going on with Olga's nose? I guess the Picts did epic amounts of blow, and maybe that's what everyone else's problem is in this trailer. Oh, also in the cast list is someone called Imogen Poots ("V for Vendetta") – I nominate her for best name of the decade.