Another retelling of Robin Hood, and another rock score.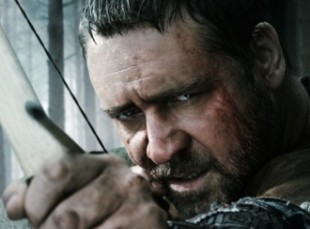 Posted by Brandon Kim on
My only real interest left in the Super Bowl (gone are the days of Packer Majik) are the high priced spots for the big studio movies due out in the coming months. There wasn't much of interest, but being a sucker for medieval pictures and Ridley Scott I did get a bit antsy in my tights over "Robin Hood," which I had not yet seen a trailer for.
Over in the UK they have a new Robin Hood reinvention every few years, but they're understandably sparse over here. 1991 saw the last "serious" efforts with both the Kevin Costner romp "Robin Hood: Prince of Thieves" and "Robin Hood" with Patrick Bergin and Uma Thurman. Both had scores that were mediocre at best, with Costner's version reaching absurd light rock heights – recall Bryan Adam's mega hit "(Everything I Do) I Do It For You" which accompanied the film. And I think composer Michael Kamen ("Brazil," "Die Hard") was channeling riffs from "The Goonies" score.
Now we have the adventurously titled, "Robin Hood" teaming Ridley Scott, Russell Crowe, and Composer Marc Streitenfeld together again. The three worked on "American Gangster" and more obviously here, on "Gladiator" – although there Streitenfeld was music editor and infamous electro-turd Hans Zimmer was composer.
The music in the trailer for our new Robin Hood incarnation was of course, totally disappointing, just another modern rock salvo set to action cues like all the rest. Garbage. Dated garbage, and it will be revealed as such in time to those for whom this is not already apparent. We'll all have chuckle.
Roger Friedman wrote, in the Hollywood Reporter blog, that the film has a serious bent to it. Then asks, "But wait: Does the public want a dark, brooding Robin Hood who takes Sherwood Forest seriously?"
He goes on to claim that "Robin Hood movies and TV shows are always fun," adding with information from a source that, "The Ridley Scott movie doesn't sound like fun from what I've been told. It's dead serious."
I couldn't disagree more with the idea that a Robin Hood retelling should be "fun." We had that in '93, it was called "Robin Hood: Men in Tights." If the source is right, who described this Scott project thusly, "I don't know if it will make money," says a source. "But it will be respected. It's dark, violent and very Gladiator," then there is hope for it.