"Alice in Wonderland" through the years.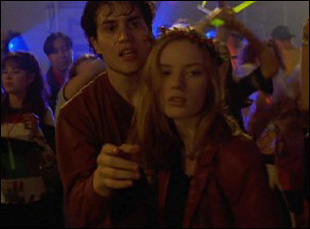 Posted by Stephen Saito on
Screenwriter John August's reliably insightful blog caused a stir yesterday with a post about the misconception that he wrote the latest adaptation of the Lewis Carroll classic. It's an understandable mistake, since August has collaborated on four films with "Alice" director Tim Burton, including "Charlie and the Chocolate Factory" and "Big Fish."
But then, he proceeds to explain the "recurring motif" of working on other "Alice"-related projects, like the rave sequence in "Go," a Wes Craven-directed version of American McGee's video game "Alice" and a Sam Mendes take that would've incorporated Carroll's real life into the fantasy.
Those last two projects never actually came to fruition, and August jokes that he expects to go back through the looking glass around 2025 to finish the job. He wouldn't be the first to return to Wonderland. With the Burton version, Disney is returning to the well after first making the 1951 animated classic, but others who have done double duty include Sammy Davis Jr., who played the Cheshire Cat in an animated 1966 production and went on to play the Caterpillar in the 1985 musical version, and Peter Sellers, a veteran of 1966 and 1972 productions as the King of Hearts and the March Hare, respectively.
The imagination that's kept "Alice in Wonderland" such an enduring story has also made it ripe for adaptation by filmmakers of all stripes. Here's a sampling of some of the more unusual adaptations over the past 100 years.
Percy Stow and Cecil M. Hepworth's "Alice in Wonderland" (1903)
It didn't take too long after the creation of film itself for filmmakers to start imagining how to bring "Alice" to the big screen. At the time of its release, Stow and Hepworth's 12-minute epic was the longest film in British history and was usually chopped up into individual sequences when it was projected at cinematheques.
Norman Z. McLeod's "Alice in Wonderland" (1933)
Although most productions have deferred the star power to Carroll's colorful characters, this Paramount-produced version was a star-studded affair, featuring the likes of Cary Grant as the Mock Turtle, Gary Cooper as the White Knight and W.C. Fields as a cannily cast Humpty Dumpty, though he's buried underneath piles of makeup. Future "All About Eve" writer/director Joseph L. Mankiewicz combined Carroll's "Alice's Adventures in Wonderland" and "Through the Looking Glass" to allow for the enormous ensemble room to play.
Dallas Bower's "Alice in Wonderland" (1949)
Through their lawyers, Disney actually put the kibosh on Bower's version from being released in America since the studio thought it would compete with their own film in 1951, but nowadays, one can see that Bower's version is a completely different experience. Featuring the stop-motion animation of puppeteer Lou Bunin, the film is a trippy, not to mention colorful, rendering of Carroll's tale that adds in musical numbers and hews closely to the source material while not suffering from a lot of clutter.
Bill Osco's "Alice in Wonderland" (1976)
Last weekend during Jason Reitman's guest programming run at the New Beverly, special guest William H. Macy won over the crowd with NSFW stories about "Boogie Nights" co-star (and real-life adult film star) Nina Hartley before a screening of Paul Thomas Anderson's film. Still, he was no match for the laughs elicited by the all-too appropriate accompanying trailer for this softcore "Alice in Wonderland," which boasts the tagline "the world's favorite bedtime story… that's finally a bedtime story" and probably the only adult film to have any kind of Oscar affiliation with music from "Funny Lady" conductor Peter Matz.
Jan Švankmajer's "Alice" (1988)
Even though many creative liberties are taken with the original Lewis Carroll text, it's likely if Tim Burton looked at any of the previous "Alices" for his new adaptation, it was this one from the Czech master animator who made his feature debut with this live action/stop-motion hybrid that takes a serious tack towards Alice's fragile psyche and makes use of dolls and everyday objects to recount her adventure.
Daniel Díaz Torres' "Alicia en el Pueblo de Maravillas" (1991)
Admittedly this Cuban satire falls into the category of "inspired by…" films that includes everything from Roman Polanski's 1972 oddity "What?" to the "Resident Evil" franchise. But only "Alice in Wondertown" has the distinction of being banned in its home country due to its criticism of the Cuban bureaucracy that keeps them isolated from the rest of the world, though the film itself traveled well beyond Havana, even to the Berlin Film Festival where it won a Freedom Prize. "Alicia" is a school teacher who witnesses the decay of a village where surreal imagery becomes the norm for its population of disgraced bureaucrats who try entertaining themselves to kill the time.
[Photo: Nathan Bexton and Sarah Polley in "Go," Columbia Pictures, 1999]