Back when British accents were evil.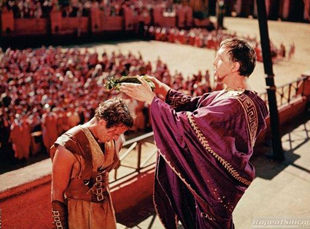 Posted by Vadim Rizov on
As we all know, the ancient world was run by a bunch of officious people with British accents, because Americans never did learn much Latin, and nothing says "empire" quite like a British inflection. We all know what it meant, and it saved us a lot of time.
What is the story of "Spartacus" if not one of dimpled all-American Kirk Douglas vs. accented, vaguely homosexual Brit Laurence Olivier? "Ben-Hur" was a little more complicated — Charlton Heston's rebellious Jew went mano-a-mano against Irish actor Stephen Boyd, whose accent is un-American but not quite British. Adoptive dad Jack Hawkins, at least, had that benevolent posh accent going on, though he still definitely possessed the upper hand. (This is somehow even true in the British production of "The Fall of the Roman Empire," where that same Boyd is now American versus Christopher Plummer's evil Commodus.)
These rules served us well down through "Gladiator," when gravel-voiced Russell Crowe and fey Joaquin Phoenix — both a little shaky on their accents, but pulling through — had their mortal face-off. And now Scottish director Kevin Macdonald wants to upend all of that by inverting the accents. Clever man.
The film in question is Macdonald's upcoming "The Eagle of the Ninth," in which the occupying Roman army finds themselves out in Scotland and out of their depth. The Americans/Romans are Donald Sutherland and Channing Tatum (as "Marcus Aquila"), their imperialistic values contrasted with Celtic slave Jamie Bell, plus a whole bunch of people who speak Gaelic.
"It was always my concept for this film that the Romans would be Americans," Macdonald says. "That was my first idea about the movie and it still holds up whether or not we had any money from America, that would have been my approach." The cynics among us might argue that this really has more to do with, say, putting Channing Tatum in charge of the army than anything, but hey.
This kind of political "commentary" seems a little on the nose — hey, look at those American imperialists! — but if the movie (scheduled for a September release from Focus Features) takes off, I suppose it's really no more of an inversion than "Avatar"'s triumph of the alien insurgents. Generation gap ahoy.
[Photos: "Ben-Hur," MGM, 1959; "The Eagle of the Ninth," Focus Features, 2010]