52nd Grammy Awards, what's more, the Jacksons.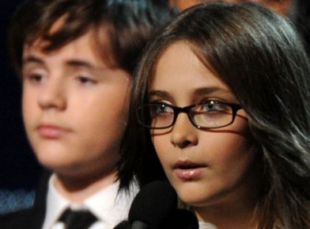 Posted by Brandon Kim on
Stephen Colbert has a great talent for standing up in front of a group of people and nailing them, like he did last night at the Grammys. It wasn't the scathing 2006 White House Correspondents' Association Dinner, but opening with "We are here tonight to celebrate what I believe is our most precious right, the right of celebrities to congratulate each other" was appropriately raw.
[Prince and Paris Jackson]
I care so little for the winners, that I'll refrain from honoring their awards with mention. I suspect no one outside the celebrity participants and the music industry cares that much anyway. With winners like these, the awards seem less about talent and more about who's moving product and catching the most spotlight. Consequently, it's only the spectacle and performances that were of any real interest.
The Grammys did us right by having that huge tribute to Michael Jackson, one reason the viewership was through the roof. Legend, Lionel Richie, introduced the 3D segment that featured a live rendition of Michael's "Earth Song," supported by Smokey Robinson and some reality TV cheeseballs with Michael on lead vocals.

Go to 8:20 for the Jackson kids.
Most mind blowing though were Michael's kids, Prince and Paris Jackson. Having been sheltered from the public for the past 12 and 11 years respectively, the first glimpse I got of these two without masks or parasols obscuring their faces was at Michael's memorial during which Paris gave her spontaneous, heart-rending goodbye. Young Prince Jackson came off like, you guessed it, a Prince. He also sounds like a voice actor from Charlie Brown's golden age. They're unreal.
Less thrilling was Taylor Swift's mash up with Stevie Nicks, mostly because I have no idea who the hell Taylor Swift is (without Kanye West) and kept wondering why she was ruining Stevie Nicks' truncated performance.
She's also really bad at accepting awards, even when some ass isn't cutting her off. She seemed… fake? Ironically, the King of Pop, the most superficially fake (skin deep) person in the world, could give a more honest and meaningful speech in his sleep. And the award goes to, Michael Jackson.