"44 Inch Chest" hard guys and Harry Nilsson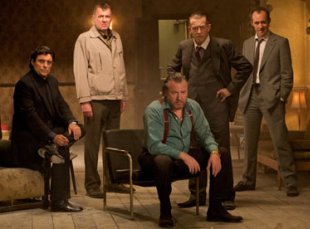 Posted by Brandon Kim on
Movies about hard guys are always best when they expose great weaknesses in the tough characters they depict. And not weaknesses like alcoholism or drugs or a penchant for violence against women – all of which are just cheap and easy character traits that only glorify the hard guy more. I'm talking about the real, pitiful flaws of a man that lie below all of that, the stuff you only get with good writing.
[The crew L-R: McShane, Wilkinson, Winstone, Hurt, Dillane]
"Sexy Beast" writers Louis Mellis and David Scinto certainly indulge their characters in plenty of drugs, alcohol and violence in "44 Inch Chest," but there's something more here too – aside from the misogyny I mean, of which there is also plenty – there is great character. Five of them in fact, played by Ray Winstone, Ian McShane, Tom Wilkinson, Stephen Dillane and John Hurt as hilariously disturbed Old Man Peanut. Joanne Whalley joins as the object of Winstone's, shall we say, affections. Here, Mellis and Scinto do some probing into the fragile loneliness of a man who's only value lies in his love for his wife, his woman, without whom he is just a sad pathetic hulk, with cynical friends in a wretched world.
This is made plain immediately in the opening sequence that makes excellent use of Harry Nilsson's soaring lament, "Without You." The song was originally written by UK's Badfinger in 1970, and great as it is, Nilsson's version is more forlorn, somehow weepier and works better here.

"Without You" – Harry Nilsson.

"Without You" – Badfinger.
Disappointingly, aside from the incredible flashback moments – like when Mcshane encounters Victor Maitland Steven Berkoff and the two go out on the town, gambling and cutting colossal lines of blow " the size of a Tobleroné" – the film doesn't achieve many creative cinematic heights afterward, but plays out like a stage production, really going no where even with a score by the great Angelo Badalamenti intimating that maybe something is about to happen. This is exacerbated by the fact that, once the cat is out of the bag so to speak, there is only one question that remains and the action stays confined in one location.
It's just too bad they don't get to hatch a caper or something while they deal with one guy's hideous anguish. It's odd this has come after "Sexy Beast," it feels like a precursor. However, like a good stage play, it's all about the characters, and though tossers all, they are great ones.