Spring Preview: Anywhere But a Movie Theater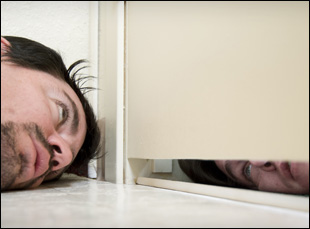 Posted by Stephen Saito on
Over 85 films will be filing through arthouses and multiplexes between now and the end of April, but nearly triple that number will be accessible from the comfort of home, whether it's on demand, online or on DVD. Here's what will be hitting televisions, computer screens, Netflix queues and store shelves this spring.
On Demand
Once you get through the masterful six-hour "Red Riding Trilogy" currently available on demand through May, IFC Films and their Sundance Selects label have quite the collection of festival favorites available to beam directly onto your TV in the next few months. It starts on February 17th with the Festival Direct release of the acclaimed John Bryant comedy "The Overbrook Brothers," about two siblings who find out they're adopted, as well as the Sundance Selects release of "Flannel Pajamas" director Jeff Lipsky's multi-generational comedy "Once More With Feeling," starring Chazz Palminteri as a psychiatrist who works out a midlife crisis through karaoke as his daughter (Drea de Matteo) tries to find an outlet for her own issues. Additionally, Sundance Selects will bring a trio of intriguing films to the masses on demand in the weeks that follow, including "The Art of the Steal" (Feb. 26) the latest from "Rock School" documentarian Don Argott about the systematic looting of the world famous Barnes Foundation art collection; "My Enemy's Enemy," (March 12) "The Last King of Scotland" director Kevin MacDonald's intricate look into the life of Nazi war criminal Klaus Barbie and his connection to Western powers; and Peter Callahan's dramedy "Against the Current" (March 26), starring Joseph Fiennes as a man driven to swim the 150-mile long Hudson River, co-starring Michelle Trachtenberg, Mary Tyler Moore and Elizabeth Reaser.
To complement their theatrical releases, IFC Films will also be offering the on demand premieres of the Jon Hamm-Josh Lucas mystery "Stolen" (March 12), "Fists in the Pocket" director Marco Bellocchio's epic story of Mussolini's secret son "Vincere" (March 19), the much-admired Daryl Wein-Zoe Lister Jones not-so-romantic comedy "Breaking Upwards" (April 2) the long-awaited Korean western "The Good, The Bad and The Weird" (April 23) and the Scott Caan drama "Mercy" (April 30).
Magnolia Pictures and their genre arm Magnet Releasing have plenty to be excited about this spring, especially if you have access to their Ultra VOD titles, which allows you to see some of the best indie films from the comfort of home. In addition to their ongoing run of the high-flying French parkour sequel "District 13: Ultimatum," you'll be able to catch Conor McPherson's chilling Irish ghost story "The Eclipse" (February 26th), the Jet Li war epic "The Warlords" (March 4th), the Paul Dano-Brian Cox dramedy "The Good Heart" (April 2nd) and George A. Romero's "Survival of the Dead" (April 30th) nearly a month before arriving in theaters.
Online
The big news online for film buffs is the launch of FilmBuff, Cinetic Media's newly-created Web site that showcases all of the films they have helped distribute online, giving you instant access to films like the Patton Oswalt football dramedy "Big Fan" and Sally Potter's "Rage." But they aren't resting on their laurels, with a cache of films debuting in February and March, starting with "You're Gonna Miss Me" documentarian Keven McAlester's follow-up, "The Dungeon Masters," a look at a trio of Dungeons & Dragons devotees who bring their role-playing heroism into their real lives, that recently premiered on Amazon VOD. For something a little lighter, Cinetic is also offering up "On Broadway," a drama about a Boston playwright (Joey McIntire) who, inspired by the death of his uncle, wants to stage a play in his honor in the back of a pub. Eliza Dushku, Will Arnett and Mike O'Malley co-star in the festival favorite that will premiere on Time Warner and Comcast VOD in March. And March also brings the online bow of "Humpday" director Lynn Shelton's mockumentary series "What The Funny," centering around the stand-up comedy scene in Seattle, which will debut on Babelgum in March, as well as iTunes debuts of acclaimed rock docs "Dig!," Ondi Timoner's eye-popping look at the brutal rivalry between the Brian Jonestown Massacre and the Dandy Warhols, and "Be Here to Love Me," Margaret Brown's intimate doc about singer/songwriter Townes Van Zandt.
There's also big news coming from B-Side Entertainment, which is powering on with the release of "Still Bill," the documentary about legendary soul singer Bill Withers that recently completed a run at the IFC Center, but is also available for anyone to host their own screening through the B-Side Web site. However, the company is also about to release "Trust Us, This is All Made Up," Alex Karpovsky's documentary about improv impresarios T.J. Jagodowski and David Pasquesi that Alison Willmore called "a lively enough document of what Jagodowski and Pasquesi are legendary for — long-form improv, done on a stage bare except for three chairs, all of it, as Jagodowski assures before the pair start, invented on the spot" when it premiered last year at SXSW. The film is now available on DVD as well as for screenings you can host yourself.
Gravitas Ventures is also delivering a host of indie films and documentaries online and through video on demand this spring, including ongoing runs of the unromantic comedy "The Snake" (see my interview with the filmmakers earlier this year) and the delicious doc "Beer Wars" about the American brewing industry. They will also be behind the VOD releases of three acclaimed new documentaries: Ondi Timoner's Sundance Grand Jury Prize-winning "We Live in Public" about the rise and fall of Internet pioneer Josh Harris (March 1st), the Val Kilmer-narrated "American Meth" about the spread of methamphetamine addiction (April 1st), and "Tapped", an investigation into the bottled water industry from the producers of "Who Killed the Electric Car?" (April 1st). Gravitas will also offer the VOD premieres of the opposites attract comedy "Splinterheads" and appropriately enough, the Easter-centric horror flick "Easter Bunny, KILL KILL!" on April 1st. And if you haven't already, you might want to add GravitasVOD to your Twitter feed to find out about more titles this spring as they're added.
Meanwhile, the independent film store and distributor IndieFlix.com has joined with dGenerate Films to bring Chinese films, unauthorized by the government, to America, starting with Jian Yi's "Super, Girls!" on March 2nd, a doc about China's version of "American Idol" that follows 10 female contestants as they aspire to become singing sensations on the "Super Girls Singing Contest." More such films will be available in the months to follow. In the meantime, IndieFlix.com recently released the timely documentary short "Appointment in Vancouver," a look at current American Olympic skier Casey Puckett as he battles injuries on his way to becoming one of the sport's most decorated athletes of all time. (You can hear Puckett and the filmmakers talk about the film here.) Both films will be available for streaming on the IndieFlix Web site, in addition to DVD editions.
The company will also soon bring to the masses "April Showers" director Andrew Robinson's latest thriller "In the Darkness" about the disappearance of two boys in the mountains that turns into something far more harrowing. The film will be available in a limited edition DVD through IndieFlix.com concurrently with a launch on Hulu before a run on VOD.